10 Best Camping Sites in Maine
With its rocky coastline, rolling mountains, amazing waterways, and an extensive 89 percent forest coverage spanning about 17.7 million acres, one could argue that Maine was created in a lab to lure unsuspecting vacationers to its rocky shores. It is situated in the northeastern-most part of the US, sharing its western border with New Hampshire, the only state in the US that shares a border with Maine. On its northeastern and northwestern borders, Maine shares a border with the Canadian Province of New Brunswick and Quebec, respectively. Its rocky coastline in the southeastern parts of the state opens out to the Atlantic Ocean.
Nicknamed The Pine Tree State, Maine is home to three different kinds of pine trees—the Eastern White Pine, Pitch Pine, and Red Pine. Some of these pines can grow to a towering height of 188 feet, so campers in Maine have plenty of shades and natural coolness to enjoy their camping. Plus, Maine has an array of delicious seafood dishes — the Maine lobster is one of them. You will never get the full camping and vacationing experience until you have tasted this caviar.
Along with being a paradise for the palates, Maine is also a paradise for the soul. Maine offers an unmatchable natural setting highlighted by dense pine forests, rocky coastline, picturesque waterways, and clear waters. They make it an ideal "Vacationland" where you can just literally pitch your tent anywhere and enjoy a great camping experience. Plus, there are no boring moments in Maine as there are tons of activities to keep you fully engaged, from moose watching to fishing to whitewater rafting and lots more. Given the array of beautiful places to camp in Maine, it is very easy to get frustrated when deciding on camping sites. As such, this piece highlights the best camping sites in Maine.
1. Cobscook Bay State Park
Situated in Dennysville in the easternmost part of Maine, where it shares a border with Canada, Cobscook Bay State Park features some of Maine's most unique settings. Cobscook Bay State Park offers a jagged shoreline where campers can gaze out into the breathtaking expanse of the Atlantic Ocean. The waves in this area can rise to a remarkable height of about 24 feet on average, so be ready to have your mind blown. The site is also dotted with a few rivers and streams and the Gulf of Maine that flows into the area, making it a perfect location to sustain a bustling population of wildlife.
Campers can enjoy a wide range of incredible activities, including boat riding, fishing, and bird watching. The full presence of nature in the area also makes it a place to relieve yourself and enjoy nature's sounds and smells in all its glory. The campground has around 106 sites for camping, including group and RV sites. Most of the sites are near the shorelines so campers can enjoy beautiful sunsets and sunrises without forfeiting their tents' comfort. Amenities offered in the campground include trailered boat launches, picnic areas, showers, and a playground.
2. Sebago Lake State Park Campground
With over 250 campsites, Sebago Lake State Park Campground is the largest in southern Maine. The campground is nestled within the Sebago Lake State Park located in Naples. The park itself is one of Maine's original State Parks established in 1938, and it is pretty popular with vacationers, especially families. The park is home to Sebago Lake, which is the second-largest but the deepest lake in Maine. As such, campers have access to a sandy beach, wetlands, and a host of rich, green trees. The park has biking and hiking trails that adventure seekers will find enjoyable to conquer. There are also lots of water activities you can engage in, such as swimming, fishing, paddling, motorized and non-motorized boating.
The campground is opened from May through October; hence, most of the campsites within this area are reservable, while only 17 allow walk-ins. The camping sites are ideal for both tent and RV campers, with most of them being equipped with electrical hook-ups. There are also 14 group campsites available at the campground. Other amenities include showers, a playground, a picnic shelter, and a trailed boat launch.
3. Wolfe's Neck Oceanfront Campground
Nestled within 626 acres of forests and farmlands with a beach that is 4 miles long, Wolfe's Neck Oceanfront Campground gives you the best of both worlds. The campground is located on an actual farm, so campers are free to tour the grounds, take time to observe the farm animals, or even go on a hayride. The entire campground is divided into three main parts – East Bay, West Bay, and Middle Bay.
The East Bay is close to the camp store and Farm Café, and the areas here have water and electrical hook-ups that make them ideal for both RV and tent campers. The West Bay is populated with trees and open fields that kids will enjoy using for their games. West Bay has no electrical or water hook-ups, but both tents and RV campers can hang out here. Middle Bay, on the other hand, is meant for tents only. The area is deeply forested with plenty of shades to keep tents cool.
The campground has about 156 campsites with lots of spaces between them and 3 cabins for rent. There is also a special area within the campground designated Quiet Cove where campers can enjoy perfect solitude and serenity. Quiet Cove also has 9 secluded sites with their separate hammocks, and they are walk-ins only. There are loads of fun activities to enjoy including kayaking, canoeing, hiking, fishing, biking and other fun programs designed to make your camping memorable. Amenities like wireless internet connection, a laundry facility and a playground are available at the campground.
4. Camden Hills State Park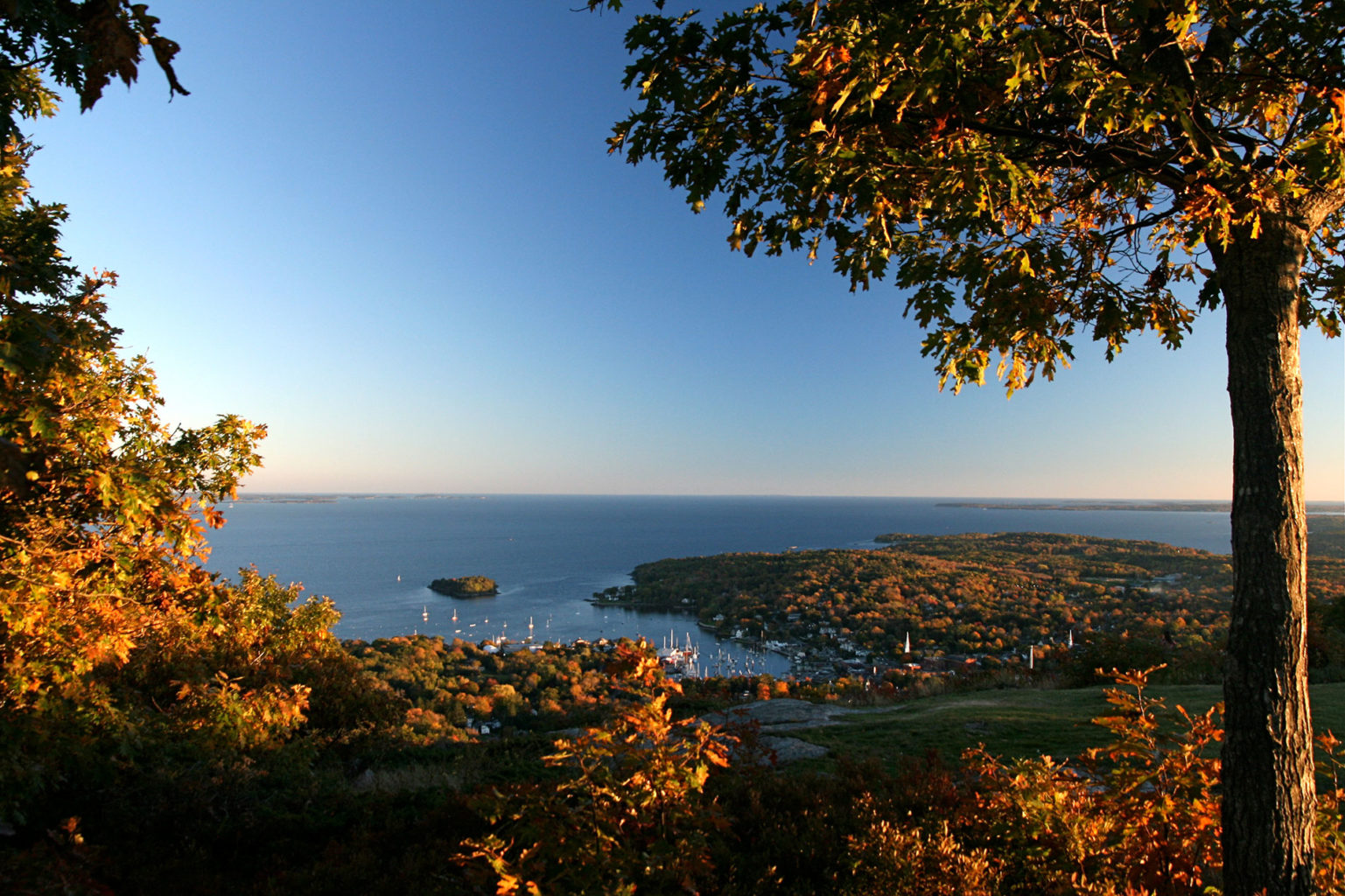 Home to Mount Megunticook, Mount Battie, and Bald Rock Mountain, Camden Hills State Park is a magnet for hikers. There are so many hiking trails in the park that stepping out from your tent could often mean stepping onto one of the trails. The park has over 30 miles of hiking trails with scenic routes that will keep you completely enthralled. Although hiking the different trails available at the park could be a lot of fun, there are other activities that campers could engage in. For instance, campers could go horseback riding or birdwatching. Snow-shoeing and snowmobiling are also available at the camp in winter.
The campground has about 107 campsites, with 44 of those being equipped with electrical and water hook-ups. Another unique aspect of Camden Hills State Park that makes it a haven for campers is the hot showers available at the campground. Other amenities provided in the campground include wireless internet connection, fire pits, grills, and a playground.
5. Lily Bay State Park
Located along the Moosehead Lake near Greenville, Lily Bay State Park spans an amazing 900 acres of land. The park has two large campgrounds with spacious campsites that give you a scenic view of the lake. The campsites here are ideal for people who want to completely detoxify from the modern world's distractions and noise as there are no hook-ups whatsoever. Here, you can fully engage with nature and enjoy the peace and serenity it provides. The park encourages campers to engage in numerous activities, such as fishing, swimming, boating, hiking, and kayaking. There are about 90 campsites for both tents and RVs across the two campgrounds in the park, including group campsites. However, there are no hook-ups, but the campgrounds have grills and picnic tables located at the beach.
6. Sandy Pines Campground
Situated in Kennebunkport, Sandy Pines Campground is an amazing campground nestled comfortably within a forest abuzz with the feel, sounds, and smells of nature and surrounded by a salt marsh and a stunning beach. Plus, the campground is one of the most family-friendly ones in Maine. The campground is dedicated to ensuring that you have an enjoyable experience by providing tents, trailers, and wagons that visitors can easily rent onsite.
You can engage in several fun activities, including kayaking, biking, lawn games, and paddle boarding. There are several spacious campsites here, and some are equipped with amenities like water, electrical hook-ups, sewage, a heated swimming pool, Wi-Fi internet connection, and a laundry facility.
7. Warren Island State Park
Warren Island State Park is an exceptional camping destination where the fun begins before you even set foot on the park. You see, the park is located on an actual island in Penobscot Bay, and the area can only be accessed by boat. The remote location and the beautiful scenery in the park consistently lure campers to the area. Even though you can only reach the park via boat, there is no ferry service in the area. Hence, you need to bring your boat. The park is particularly ideal for people who crave tranquility.
Bear in mind that the only things the park provides for campers are moorings for boats and potable water. Therefore, you must bring all the other things you would need for camping. The park is pretty exclusive, so only 12 campsites are available in the park. However, the calm and serenity here are second to none.
8. Lamoine State Park
Snuggled perfectly on the shore of Frenchman's Bay in Lamoine, the park gives you a satisfying view of the mountains on Mount Desert Island while saving you from the hassles of dealing with the crowds on said island. The park offers a kind of serenity and peace that may be hard to come by in most other places. Plus, you can easily feel a profound connection with nature and enjoy the calming effects it brings.
Make no mistakes; the tranquility of the park is not equivalent to a lack of enjoyable activities. The truth is far from that, as there are tons of activities that campers can readily engage in to keep themselves enjoyably occupied. For instance, campers can go fishing, kayaking, hiking, or simply watching the buzzing wildlife in the area. There are 62 primitive campsites in the park where campers can pitch their tents or park their RVs, but there are no hook-ups in any of the sites.
9. Mount Blue State Park
If you desire to reconnect with nature while feasting your eyes on beautiful landscapes, then Mount Blue State Park is your best bet. You can get a great view of Webb Lake and the captivating mountains around it from the campground. The park is the largest in the whole of Maine, so there are plenty of spacious campsites to select from.
Campers have a grand time at the park, especially in the summer, when movies are often available at the amphitheater. Campers can take their pick of the 136 campsites near Webb beach. Hook-ups are not available on any of the sites, but the views are amazing. Campers can engage in several activities, such as swimming, fishing, canoeing, hiking, boating, bird watching, and mountain biking in the summer, while snowmobiling, cross-country skiing, and snow-shoeing take the front row in winter.
10. Acadia National Park
Dubbed "Crown Jewel of the North Atlantic Coast," Acadia National Park is tasked with the burden of preserving the natural beauty of the environment in the northern Atlantic coastline. The park is a mammoth of over 47,000 acres of rocky headlands, evergreen trees, clear waters, wildlife, and a boatload of campgrounds. There are over 14 different campgrounds around the park, each having a collection of campsites for both RVs and tents.
The park has over 158 miles of hiking trails, giving hikers a euphoric experience hiking through the scenic trails nestled around the park. Other activities that campers may find interesting include kayaking, swimming, canoeing, fishing, tide pooling, and generally enjoying the full measure of the outdoors.
Conclusion
Along with being the "Pine Street State," Maine is often called Vacationland by those who have had the opportunity to visit there. A key aspect of what makes Maine an ideal destination for vacation is its unmatchable suitability for camping. Maine is the woodsiest state in the US, so you cannot get closer to nature than Maine. With this article, you can now make an informed decision on the perfect place to pitch your tent for a memorable camping experience.
FindCampingGear.com is a participant in the Amazon Services LLC Associates Program, an affiliate advertising program designed to provide a means for sites to earn advertising fees by advertising and linking to Amazon.com. We also participate in other affiliate programs which compensate us for referring traffic.