10 Best Camping Sites in Oklahoma
Known for its Indian Blanket and Oklahoma Rose flower, Oklahoma is a vast land state providing several recreational opportunities for vacationers. Many of its camping sites range from secluded and cozy places to open places where you can navigate around various views of picturesque wildlife, prairies, and some hilly terrains.
Below is the list of the best camping sites in Oklahoma where you can have the best camping experience.
1. Chickasaw National Recreational Area
The Chickasaw National Recreation Area is our best pick because it gives you almost all the camping experiences you may want. On this recreational land sits the Rock Creek, which offers you natural swimming holes by flowing over travertine terraces. This creek ripples through the park's waterfalls and allows you to boat along.
If you would like only to relax, you can soothe yourself on the shore of the Lake of the Arbuckles, which is the best fishing lake in Oklahoma. If adventure is your thing, you can try the several forested trails within the park and witness the view of nature's best wildlife and other scenic bluffs. You may also set up camp at the Little Niagara swimming hole to have the best refreshing evening.
Buckhorn Point
Guy Sandy Campground
The Buckhorn Point and Guy Sandy are the major campgrounds. These campgrounds have several camping sites, and they offer modern to primitive-style amenities. You can also take out a day at the Veterans Lake if you love angling.
2. Lake Eufaula State Park Camping Sites
Lake Eufaula State Park's beauty is in its wildlife viewing opportunities, mountain biking trails, fantastic undergrowth, and perfect vast spaces for other recreational activities. This park sits on a 10200-acre reservoir, and its terrains provide for horse riding, hiking, and equestrian trails. There are other playgrounds where you can go disc golfing or pond fishing.
Lake Eufaula is the park's major attraction and serves as visitors' popular destination for fishing, boating, and swimming. The park authorities allow you to fly your plane into the park directly, providing a real camping experience for you as you take an aerial view of the beautiful park scenery.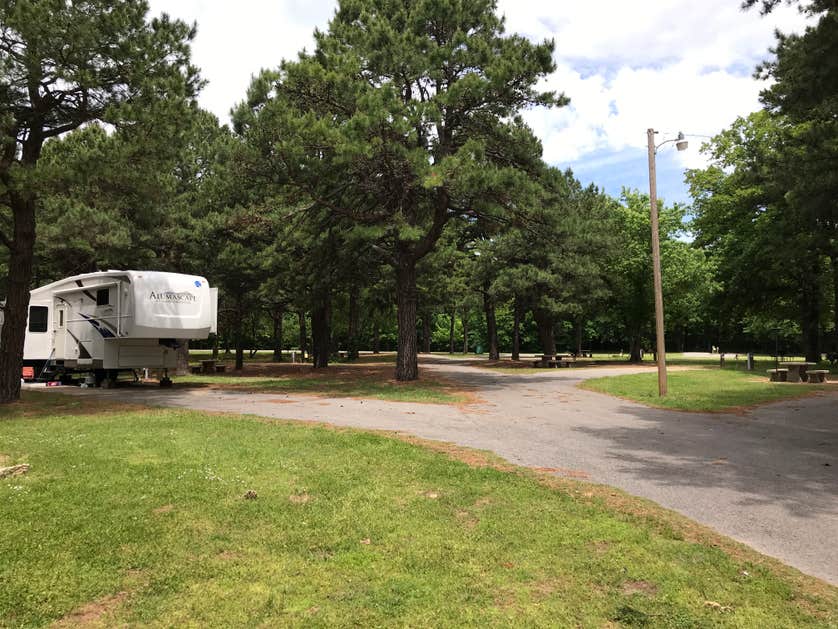 There are about 100 tent camping sites on this park, with other sites for yurts and RV hookups. After viewing diverse wildlife and foliage, you can take time out to know more about these plants and animals in the Deep Fork Nature Center.
3. Wichita Mountains Wildlife Refuge
If you like camping exploration, Wichita Mountains Wildlife Refuge should be your next spot. Be prepared to see the scenery view of this vast land grazed by animals such as longhorn cattle, buffalo, prairies dogs, and elk. The environment is large enough for hiking, fishing, and rock climbing.
The Doris Campground sits at the Quanah Parker Lake's bank and has several camping sites for your recreational adventure. These camping sites provide you with a grill, picnic table, and fire ring. Besides, you will like the range of camping opportunities from a semi-primitive look to a single unit and group camping. You have access to a centrally located shower/restroom, trash dumpsters, and chemical toilets.
Fawn Creek Campground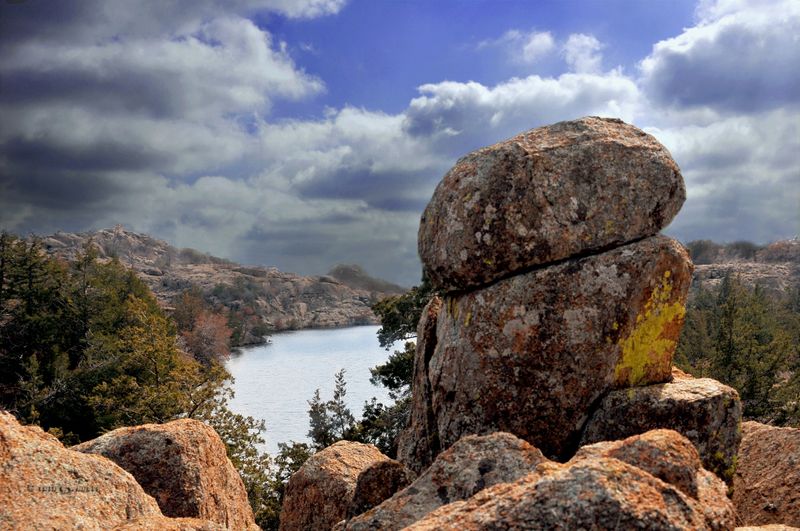 The Fawn Creek Campground and Backcountry Camping are other campgrounds whose use is limited to reservations. Youth groups through their university can make use of the Fawn Creek Campground while the Backcountry Camping is used in the Charon Garden Wilderness Area. You may take your adventure to one of the prominent mountains in Oklahoma, Mount Scott, where you can have a picturesque view of your surroundings.
4. Beavers Bend State Park Camping Sites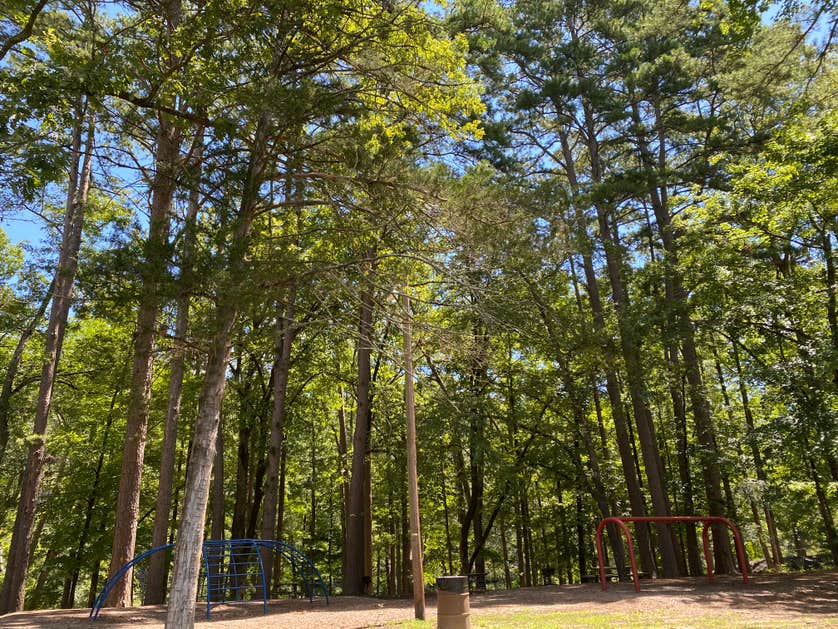 The Beavers Bend State Park is located near Broken Bow Lake, along the flowing Lower Mountain Fork River. There are five campgrounds in this park which comprises several camping sites where you can relax and enjoy the view of the rising most especially when you wake up in the morning. You can make use of the Big Oak Nature Trail near the Grapevine and Hickory Campgrounds to explore your surrounding nature.
The Beavers Bend State Park Campsites are primitive for most antique lovers, and you can access a paddleboat rental, miniature golf course, and swimming beach. You can enjoy an almost 3 miles flow-down trip using the Beavers Bend River Floats. Many vacationers enjoy the feeling of fresh breathe of the river air as they paddle along.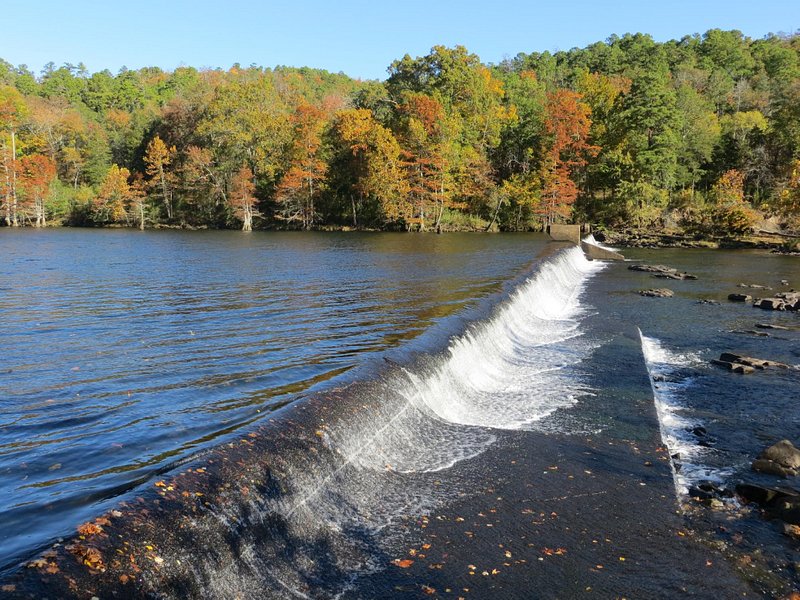 You may take some time to cool off from the water along the several sandbars and rocky outcrops scattered throughout the terrain. If boating is not your thing, you can use stable riding or the train ride through the park. You may also visit the Forest Heritage Center to learn more about the current scenery you are in.
The Broken Bow Lake is also located north of the river, where you may experience camping on any of the camping sites spread across the Hochatown Area. You can roast marshmallows over an open fire while viewing the beautiful and grand setting of the sun.
5. Red Rock Canyon Adventure Park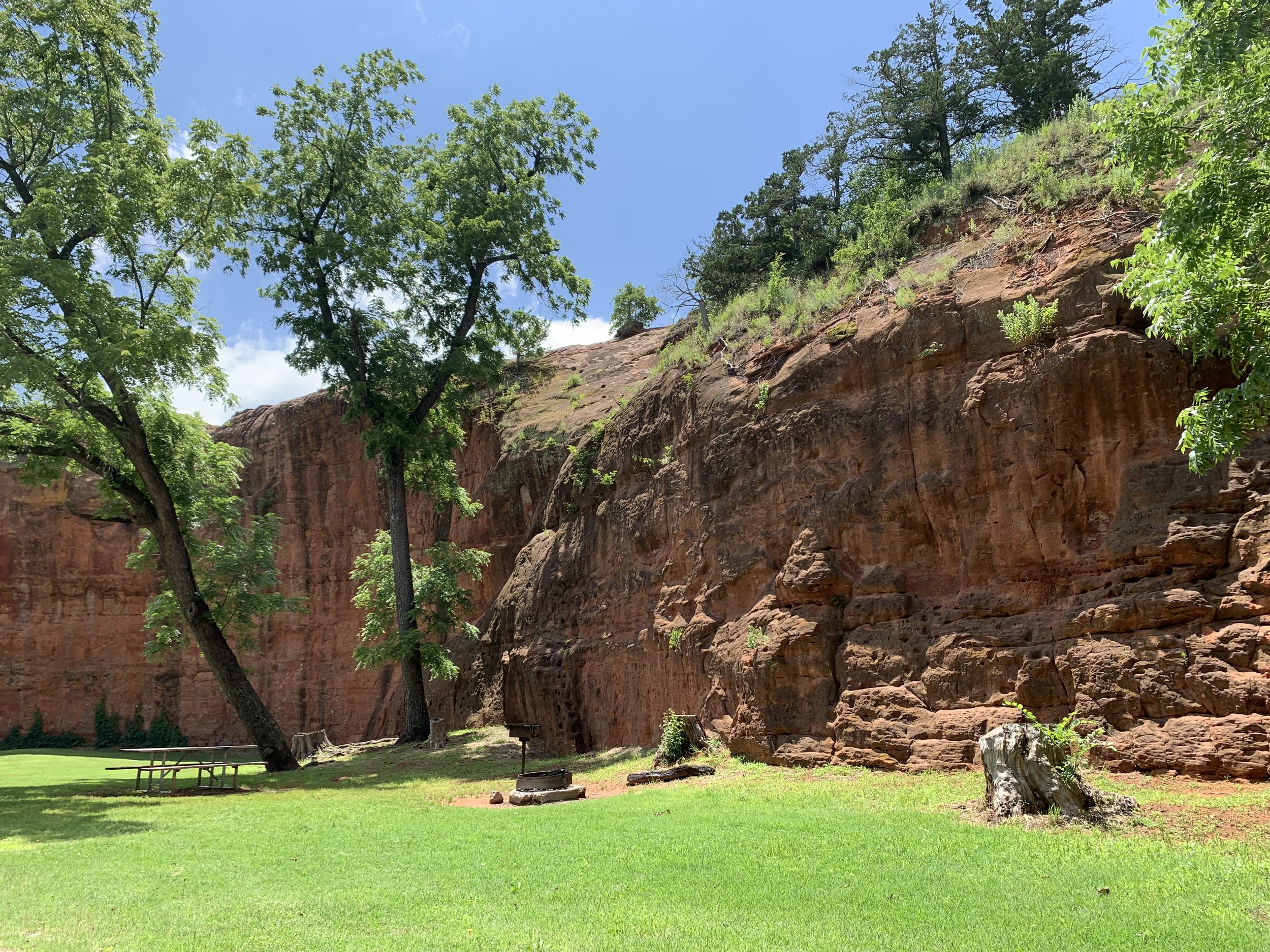 If you are a lover of beautiful and prehistoric rock exploration amidst other camping experiences, you may want to visit the Red Rock Canyon Adventure Park. The Red Rock Canyon Adventure Park has about 300 acres of red rock cliffs formed from ancient soil deposits. Prospectors used the cliffs as the prominent landmark to reach the West Coast during the mid-1800s Gold Rush.
These same cliffs can serve as a hiking part for you, and you can have a scenic view of the vast landscape. There are also swimming pools where you can cool off your body heat. Other places to explore are the park's picnic shelters and fishing holes. You may go bird watching or explore several prairies using the California Road Nature Trail.
Experience family and team-building activities on the picnic grounds provided by this park. Take a deep breath of nature's foliage as you rappel down the canyon. You can relax overnight in the Red Rock Canyon Adventure Park using their lodging options. You have access to both RV sites and primitive camping.
6. Greenleaf State Park Camping Sites
Greenleaf State Park is situated in the northeastern Oklahoma lush mountainous region and winds through the Greenleaf Lake providing maximum outing experience for most vacationers. You may decide to camp at any of the camping sites in the Lakeview Campground or the Trailhead Point Campground. There is an 18-hole miniature golf course for your golf lovers, and you can also use the lake for float boat tours or relax at the beach.
The view of the sunset is particularly amazing at the Gobbler Ridge and Eagle's Nest Campgrounds. You will enjoy full amenities such as a comfort station, playground, picnic area, and a boat ramp. You may take some time out into the surroundings to view the greenery environment or use any of the trails for your hiking and mountain biking activities.
You can also explore the Trailhead Point Campground's swinging bridge situated over the bay of Greenleaf Lake. There are 100 tent sites with close to 100 RV camping sites and 16 cabins. You also have access to basketball courts, discovery centers, volleyball courts, and ponds where you and your family or colleagues can always enjoy the best of the camping moment.
7. Ouachita National Forest Camping Sites
The vast terrain of more than 350000 acres makes the Ouachita National Forest one of the most sought-after camping areas. Ouachita National Forest has several camping sites within its public four main campgrounds: the Winding Stair Campground, Cedar Lake, Cedar Lake Equestrian Camp, and Billy Creek Campground. You can explore nature and have a fun-fill recreational time through fishing, biking, hunting, and hiking.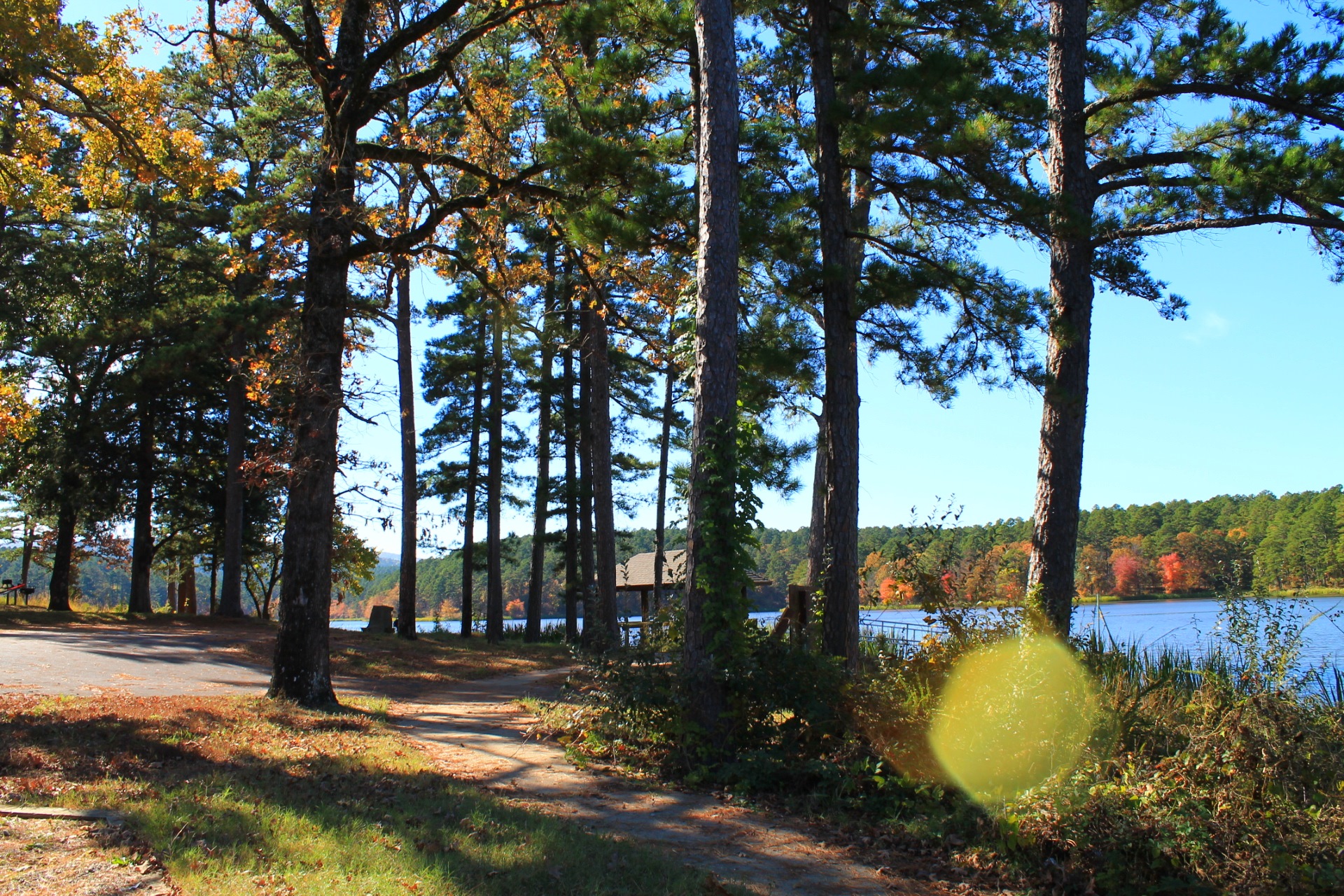 Cedar Lake Trail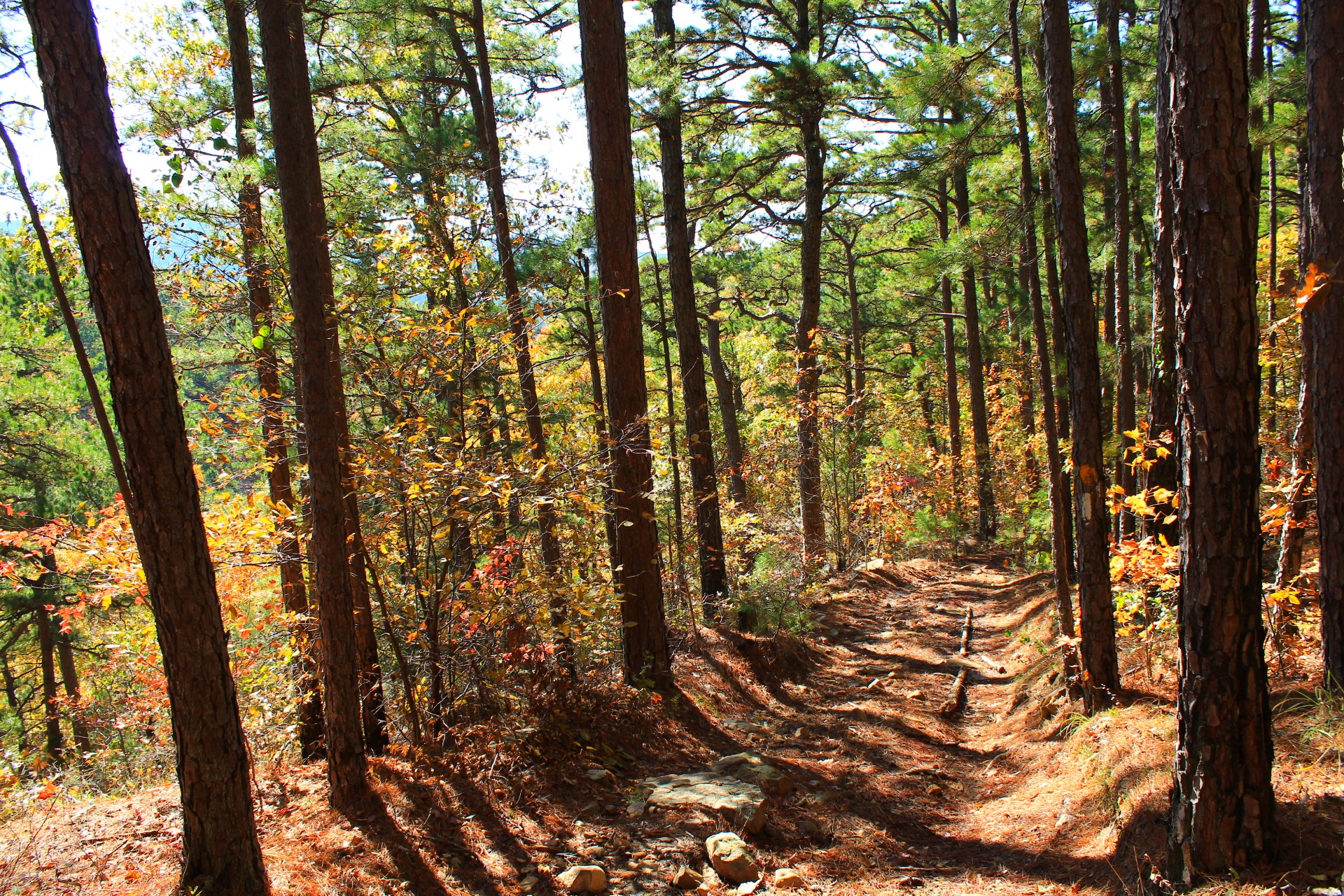 Billy Creek Trail
The campgrounds here give you several features which blend modern experience with primitive times. You may use the Cedar Lake Campground if you like to boat ramp or see the surrounding lush trees. The Billy Creek Campground gives you amenities such as a vault toilet and picnic table. If you would prefer to ride your horse, you can access the Cedar Lake Equestrian Campground, which provides you a horse trail of 100 miles with added hitching posts, picnic pavilion, wash rack, and horse corrals.
You may also want to use the Winding Stair Campground, especially if you will like a peaceful or quiet environment. The backpacker's camp, which is the hot spot to enjoy your peaceful moments, is located very near this campground and provides fun features such as a fire ring, tent pads, and table, which all allow you to reminisce in your quiet solitude.
8. Natural Falls State Park Camping Sites
The Natural Falls State Park is popular for its 77-foot waterfall, which flows through the rock formation of northeastern Oklahoma's Ozark Highlands region. Campers can make use of the serene pool that is created at the bottom of this fall.
There is also provision for an observation deck at the base of the fall, which allows you to see vantage points while you are seated. Otherwise, you can have your view at the close-up view, which overlooks the fall. This fall winds through a V-shaped valley at the bottom of this pool, and the vast terrains of land ensure you have the best recreational outing by viewing wildlife, fishing, playing basketball, hiking, or even golfing. There are several tents here, and you can make use of the RV sites or yurts.
Explore the forests near this fall and see white oaks, maple clusters, and chinquapin, which all thrive within these moist surroundings, among other vegetation.
9. Robbers Cave State Park Camping Sites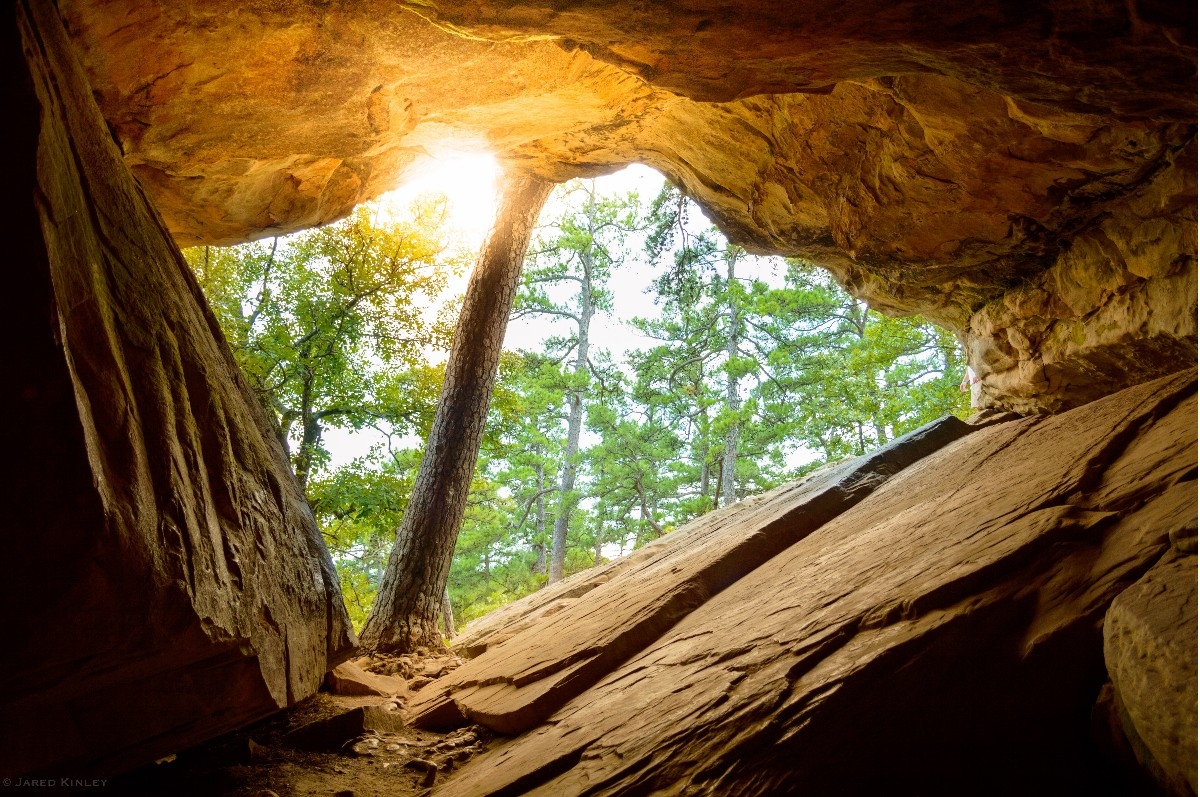 The Robbers Cave State Park is one of the best premier camping areas in the state, although it was made famous because it had been the hideouts for Belle Star and Jesse James, who were outlaws in historic times. This park provides an array of both old-fashioned and modern outdoor camping.
There are RV sites with amenities as well as equestrian campgrounds where you may go horse riding. This equestrian campground has corrals, horse trailers, and holding pens. You can have an experience of the olden ways by lodging in the rustic yurt.
Use the rugged cliffs in the park for amazing climbing as you take a moment and go to Cave Trail's summit to view the thrilling scenery of the Sans Bois Mountain's rolling foothills. There are other primitive camping sites situated in this park's secluded areas where you can be greeted with real wilderness exploration. You may also explore Lake Wayne Wallace or Lake Carlton, where you can set up a tent and have a feel and breathe of the lake's fresh air or go swimming and fishing.
10. Boiling Springs Park Camping Sites
The Boiling Springs Park's main thrilling features are its sparse woodlands, winding streams and lakes, and magnificent timber display. All these are a result of the semi-arid climate of northwestern Oklahoma. This park has various camping sites for your amusement and has been named because of its natural boiling springs that greet incoming visitors. You will have access to watch wildlife on the vast land terrain or use the hiking trails. It is a completely renewed and rejuvenating experience to view the picturesque surroundings starting from the prairies oasis near Woodward.
The Spring Hill and White Tail Campgrounds provide you with few camping sites with options for RVs and tents. These two campgrounds have trailhead, which leads you through a winding area of the streams and dense forest. You can further use these trailheads to explore the River Trail of the North Canadian River or the beautiful curve of the Scout Trail around the Shaul Lake. Be careful here as you surely will be greeted by critters whose home you are trespassing as you try to explore the scenery of the amazing Boiling Springs State Park.
Conclusion
Camping in Oklahoma's scenery environment may be a dream come true for you because this state provides you with all the needed vacationing experiences all combined in a beautiful piece, which blends both modern and primitive outlook.
There are various vast lands in Oklahoma, which allow you to view nature's wildlife while you enjoy other recreational outdoor activities, such as fishing, horseshoeing, biking, golfing, and hiking, among a range of other camping activities. Next time you are thinking about vacationing or camping, the listed destinations in Oklahoma can be your next point of call for a bright experience.
FindCampingGear.com is a participant in the Amazon Services LLC Associates Program, an affiliate advertising program designed to provide a means for sites to earn advertising fees by advertising and linking to Amazon.com. We also participate in other affiliate programs which compensate us for referring traffic.