8 Best Camping Sites in North Carolina
With the vast array of locations to camp, including parks, lakeshores, forests, national seashores, and wilderness areas, North Carolina has become a popular RV and camping excursion destination for adventure enthusiasts globally. Whether you seek the ambiance of a backcountry camping site or an expedite location for you and your friends to park an RV or pitch a tent, this famous state has much in store for you.
From primitive beach camping to cabins nestled in deep forests, State parks in North Carolina offer a vast range of exciting camping options. Campers are able to engage in multiple activities, including kayaking, fishing, bird watching, mountain biking, socializing with friends, and many more.
If you are new in North Carolina and wondering about some of the intriguing and scenic camping sites to excurse, then you are in the right place; this piece will give the much-needed insight on the same.
Let's get to it.
1. Max Patch Camping Site
Situated close to Hot Springs in Madison County in North Carolina, the Max Patch camping site is ideal for stargazing. It is nestled on a bald 4,629-foot summit on the border of Tennessee, and North Carolina, famously termed as "the crown jewel of the Appalachian Trail." Max Patch's peak is plain, and it is a mountaintop meadow with more than 300 acres. It is a perfect destination for those who fancy stars picnic style.
Although it is free of charge to camp at Max Patch, those wishing to explore this site are advised to camp at least a quarter-mile from the developed recreation area, including the Appalachian track and trailhead. Campsites should be placed 200 feet away from the water source. The campfires should be confined, small, and always attended.
Each of the camping sites at Max Patch is primitive, with no water and no amenities. The main hurdle is finding a spot close to the summit. This camping site gives you an opportunity to interact with nature while you have fun with your family and friends. It will also help you to relieve stress by diverting your mind from the challenges of life.
Those wishing to camp at this facility are refrained from transporting firewood into this park. It could lead to the transmission of hazardous diseases and insects, which could cause damage to the forest and the wildlife. You could opt to purchase heat-treated firewood or buy it locally at the camp store.
2. Cataloochee Valley Camping Site
Situated in the famous Smoky Mountains National Park in North Carolina, Cataloochee Valley is positioned in a secluded setting providing guests with a wide array of recreational activities, including fishing and hiking.
The Cataloochee Valley camping site encompasses an extensive trail system that is less traffic as compared to other parks in the area. It features two trails, Rough Fork Trail and Caldwell Fork, with scenic streams and creeks, which are also used by horseback riders and hikers. Caldwell Fork Trail, a few minutes away from the campground, is a perfect spot where the campers can enjoy hiking.
One of the reasons this camping site is a favorite among the anglers is that some of the best Brook and Rainbow Trout are found in this Cataloochee basin. When aquatic insects hatch in significant numbers during the months of spring, campers can enjoy fly fishing.
Cataloochee Valley camping site features more than 90 historic structures, including grist mills, barns, houses, schools, churches, and outbuildings that have been preserved within the park. This site offers a primitive outdoor camping experience with the convenience of drinking water and flush toilets. However, it is essential to note that there are no showers and hookups.
Pristine mountain streams and ranges engulf the Cataloochee camping site. During fall and spring, elk are typical here. The climate is moderate and is characterized by humid, hot summers and mild winters and is best used between mid-March and October.
3. The Chimneys Camping Site
The Chimneys camping site is situated in Linville Gorge in North Carolina. It features unobstructed sceneries of Linville Gorge and Table Rock as well as massive cliffs. Although this campground is less known, you will be amazed by the surrounding mountains' panoramic views. World-popular rock climbing tournaments are conducted here thanks to the enormous rocks at the Table Rock.
The Chimneys campground encompasses 165 family-oriented sites with electrical and water hookups. Both 30 and 50 Amp are available in the electrical hookup sites. Although there are minimal sewer sites, dumping facilities are available for the guests at no charge. Most of the sites at this campground have a fire ring and a picnic table. Campers are also able to enjoy the shaded areas, which are accommodating, comfortable, and reasonably spacious.
Near the riverfront, there is a separate section where the campers can pitch their tents. However, it is essential to note that there are no electrical or water hookups in this section. However, those who seek to camp at this facility are assured of an intriguing and memorable experience away from the city setting.
Restrooms and hot water showers are available at the convenience of the campers. The camping sites are accessible throughout the year. Although the first-come, first-serve policy applies, advanced reservation is available for those wishing to visit this site.
4. Linville Gorge Campground
Situated in a thick pine canopy a few miles from the famous Blue Ridge Parkway on the Western region Of North Carolina, the Linville Gorge camping site is a perfect destination for a family camping excursion. This camping site is privately owned and features full hookups, electric and water sites. It is positioned in a primitive, secluded tent area, and it's engulfed by mountain rhododendron and laurel.
Each of the camping sites is equipped with a fire ring, grill, and a picnic table. Log cabins are very popular on this site and are rented at a reasonable price. None of the cabins at this camping site are identical. Thus you have the mandate of choosing the one that suits your taste.
Linville Gorge Camping Site is located a few miles from remarkable tourist attractions, including Wiseman's view, Linville Caverns, Linville Falls, and Gorge, as well as the Gem Mountain. Numerous mountain biking and hiking tracks are also nearby. Guests are assured of natural ambiance and tranquility away from noisy cities, traffic, and busy lives.
State-of-the-art clean restrooms with showers, laundry facilities, a playing area for the kids, and a camp store are all available for your convenience. With the wide array of amenities, you are assured of a memorable and comfortable stay at the Linville Gorge camping site.
5. Cheoah Point Campground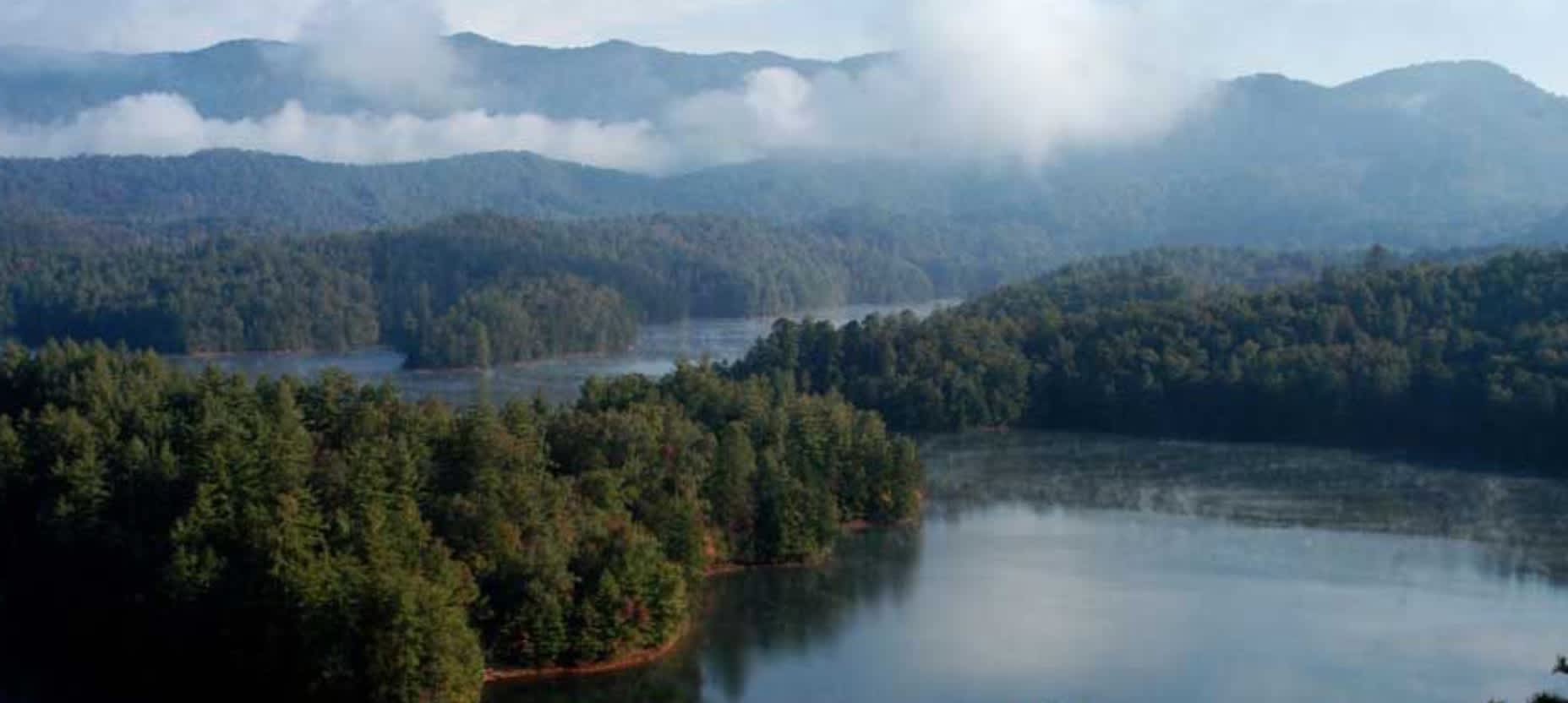 Nestled in Lake Santeetlah, close to Robbinsville in North Carolina, the Cheoah Point camping site is engulfed by mixed hardwood forest and offers a spectacular view of the lake. This primitive camping cabin features two rooms that can accommodate six people each. The backroom is fitted with a set of bunkum bed frames, while the front room is equipped with a full bed frame.
This camping site is equipped with a picnic table, charcoal grill, electric outlet unit, and lantern post. Inside the cabin, there are no electricity and running water. However, water spigots are available throughout the campground. Shower facilities and flush toilets are positioned roughly 150 feet away. Campers may opt to bring a cooler, bedding, mattress pads, and equipment and supplies for preparing food.
Being a human-made reservoir, Santeetlah provides 76 miles of lakeshore engulfed by natural forest. There is a vast array of inlets and coves to discover as you enjoy the mountain sceneries. Those who fancy bird watching this is the place to be as various bird species will entertain you. Osprey and sandpiper are commonly seen during summer and spring. Green herons, warblers, and red crossbills are common during migration.
This camping site is ideal for sailing, water skiing, non-motorized boating, and powerboating. Anglers can catch walleye, trout, bass, bream, and crappie.
6. Kerr Lake State Recreation Area
Situated north of the Triangle in the Virginia State Line in North Carolina, Kerr Lake State Recreation Area features a trailer and wooded campsites just by the water's edge. Both non-electrical and electric hookup sites are offered. Direct water hookups are also available for some electric sites, while some need up to 100 feet of a hose pipe to access the water hookup.
Most of the camping sites at Kerr Lake have a picnic table, tent pad, and fire ring. Public telephones, playgrounds, restrooms, dump stations, and hot showers are nearby.
This recreation area features seven access sections dispersed around the shore of this 50,000-acre reservoir that stretches up to Virginia. Hundreds of camping sites at Kerr Lake provide a wide range of outdoor recreational opportunities, from group camps to RV hookups. Multiple boating ramps and numerous swim beaches are available, some of which have 24-hour access for campers.
For those who enjoy fishing, the lake is famous for its vast array of fish species. Boaters can get excellent service from the two private marinas. Fishing tournaments are organized at the Nutbush Access, thanks to a boat ramp's extensive availability at this camping site. A community building popular venue for community and family gatherings is also available.
7. Jones Lake State Park Campground
Situated close to Elizabethtown in Bladen County in North Carolina, the Jones Lake State Park camping site features scenic views and intriguing geological mysteries of the United States' eastern region. Some of the spectacular attractions in this camping site include the Carolina bays neighboring Bladen Lakes State Forest. It is the home to natural lakes, including Salter and Jones. Those who love nature and adventure will be delighted by this camping site.
This camping site is engulfed by a quiet and peaceful atmosphere with a vast array of facilities, including a track with various sceneries making this site a perfect spot for picnicking, hiking, swimming, and fishing.
Jones Lake State encompasses 20 family-friendly camping sites. Grill and picnic table are installed on each wooded area. Drinking water, as well as washrooms with showers, are situated nearby. A place with water and electrical hookups is accessible for both recreational vehicles and tents. However, it is essential to note that the park for recreational vehicles does not offer a dump station. The camping site is accessible between mid-March and November. First-come, first-serve basis applies here.
A primitive camping site for organized groups is accessible year-round. The site features a grill and a fire circle, pit toilet, benches, and picnic tables. There is access to clean drinking water. The site is available only for reservations, and it can accommodate a maximum of twenty people.
8. Masonboro Island Camping Site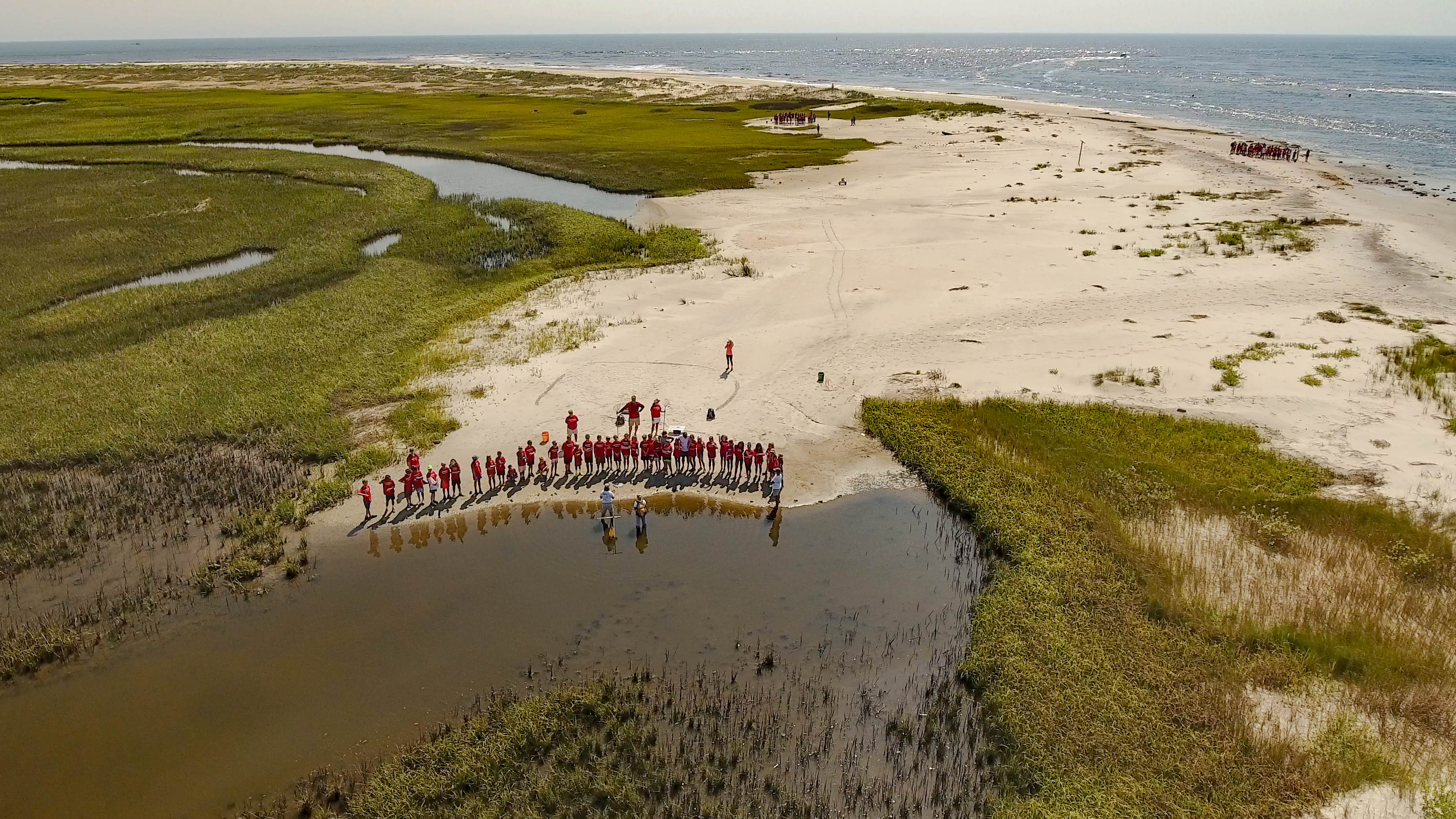 Situated close to Wrightsville and Wilmington Beach in North Carolina, Masonboro Island offers a unique camping experience due to the epic beachside excursions. This camping site features 8 miles of emergent beach. It is an ideal destination for overnight camping along the shorelines.
The deserted beaches will make you feel like you are on your own small private land. Paddleboard and boat transportation from Wrightsville Beach marks the commencement of the excursion to the uninhabited island. This site assures you of a memorable experience.
Masonboro Island has pocket-friendly packages for camping at this facility. Each package comes complete with tent gears, fire kits, comfy bedding, cooler, and lanterns. The state-of-the-art amenities assure campers and RV enthusiasts of a relaxing and good time for you and your family.
Although campers can access Masonboro Island Camping Site by kayak, extreme caution is advised. To avoid rapid currents, it is recommended that you refrain from local inlets as much as possible and be mindful of the maritime traffic when crossing the Intracoastal Waterway, which is heavily used.
Campfires are allowed in the Masonboro Island camping site. However, they should be strictly confined to the fire pits. Campers are also urged to be careful and attend to the fire to avoid causing damage to this natural facility. The campfire should be completely extinguished when the campers are retiring to bed.
Conclusion
The wide range of beautiful, breathtaking, and adventurous camping sites across North Carolina is the reason why it has become a camping excursion destination for tourists all across the globe. If you are new North in North Carolina and undecided on where to camp, the above-mentioned camping grounds assure you of a memorable experience for you and your family.
FindCampingGear.com is a participant in the Amazon Services LLC Associates Program, an affiliate advertising program designed to provide a means for sites to earn advertising fees by advertising and linking to Amazon.com. We also participate in other affiliate programs which compensate us for referring traffic.