9 Best Camping Sites in Montana
Montana is undoubtedly the ideal destination for outdoor enthusiasts who are into camping and RV in the entire country. Whether you are pitching your tent in the middle of nowhere for a weekend getaway or in an RV in one of the famous spots in the state, the Big Sky Country has something to keep everyone entertained. During their stay at the various camping site in Montana, campers could also enjoy backpacking and hiking, fishing, hunting, wildlife viewing, winter activities including snowshoeing and water recreational sports, and many more.
One of the perfect ways to explore the Big Sky Country is through camping as most of the campgrounds are near cities and towns, close to excellent fishing rivers and lakes, numerous miles of down dirt roads, and national parks. No matter what your preference is, you will be spoilt for choices in this popular state.
If you are new in Montana and undecided on which camping site to explore, then you are in the right place; this article will enlighten you on the best camping site that you should consider excursing in Montana.
Let's get to it!
1. Bannack State Park Camping Site
Situated in Bannack in Montana, Bannack State Park Camping Site is remarkably well-preserved and features scenic views. Nestled in the heart of a historic ghost town, it's famous for being the first significant gold discovery in this state back in 1862. This park's main street is lined with 50 structures giving the campers a chance to enjoy the old Wild West true sense of feeling.
During the summer season, campers are able to enjoy guided tours as they go panning for gold in the streams nearby. Bannack Days celebration is organized annually in July at this facility, where campers get an exclusive opportunity to live music from renowned band groups and historical re-enactments. The old-town comes to live with the costumed characters.
Road Agent Campground
Vigilante Campground
Between the two campgrounds scattered at this park, there are a total of 24 sites. Both the Vigilante and Road Agent campgrounds can access vault toilets and running water conveniently positioned near Main Street and various historical structures.
Bannack State Park camping site is accessible throughout the year. However, during winter, limited amenities and facilities are available.
2. Apgar Camping Site
Located in Glacier National Park, the Apgar camping site has popularly termed the Crown of the Continent and features scenic views and glaciated landscapes. Being the biggest camping site in Glacier and a favorite to both the locals and the tourists, Apgar campground encompasses 194 sites. This camping site is best used between June and August, of which it is often heavily packed. Accommodating both RVs and tents, this camping site cannot be reserved but instead operates based on first-come, first-served. However, there are five group sites that you can opt to book ahead of time.
While camping at the Apgar camping site, you could enjoy the convenience of the visitor center, a camp store, gift shops, and a casual restaurant where you could enjoy the local delicacies. Other amenities that could keep you entertained at this facility include boat rentals, horseback ride reservations, and Red Bus tour reservations.
Potable water, clean washrooms with sinks with running water, and flush toilets. Lake McDonald is situated a few minutes away from the camping site, where the visitors can enjoy a spectacular sunset. A vast range of programs is organized at the Apgar Amphitheater to keep everyone entertained. For those who like hiking, a number of trails are situated within this camping site.
It will cost you $10.00 per day to camp at this camping site.
3. Big Arm/Flathead Lake State Park
Being one of Montana's biggest freshwater lakes, Flathead Lake State Park encompasses over 150 miles of seashore and several camping sites on all sides. On the lake's western wing, the Big Arm State Park camping site features one of the biggest and most famous camping sites on Flathead Lake. Additionally, there are stunning sceneries on the adjacent Mission and Swan Mountains on the other side of the waterbody.
The best part about this camping site is that you can book it ahead of time, including lightly furnished yurts in some of the units. Other popular nearby camping sites include Wayfarers campgrounds and Finley Point State Park, all within the Flathead Lake State Park.
This popular camping site is popular with swimmers and sunbathers. Camping beneath a juniper and a stand of mature ponderosa is a major attraction at this site. The hiking trail offers stunning vistas of the nearby high peaks and mountain ranges with a vast array of wildlife watching opportunities. Other fascinating activities conducted at this site include board sailing, fishing, swimming, boating, mountain biking, waterskiing, scuba diving, and other water sports.
Positioned in an elevation of 2,953 feet, this camping site stretches up to 240 acres. This campground features 41 camping sites, including three yurts, one group campsite, and one wheelchair-accessible site. The maximum trailer/RV length is 40 feet. Although there are several bears on this site, there is no need to worry as storage lockers that are bear-resistant are available.
4. Lewis and Clark Caverns Camping Site
Situated a few miles west of Bozeman and strategically positioned off interstate 90, Clark Caverns and Lewis camping site is an ideal stop-over on a Montana road trip. It boasts of being one of the biggest known limestone caverns in the Northwest region of Montana and also being the first state park. A guided tour provided at this camping site between May and September is the only way to see the speleothems and stalactites. There are over 40 sites scattered at this park.
Accommodating RV and tent camping, the famous Lewis and Clark Caverns camping site encompasses three spacious cabins available for rental. All overnight campers at this facility have access to hot showers and flushing toilets. This site is accessible throughout the year, and discounted rates are offered during winter. Drinking water is also offered to the guests during the summer season.
It's always a fantastic time to excurse the picturesque limestone formations with a friendly and knowledgeable guide. Observe the geologic formations, get insights into the history of early exploration, and learn about this park's ecology while you camp at this facility. Campers can also enjoy mountain biking and hiking as well as water sports at the adjacent Jefferson River.
5. Holland Lake Camping Site
Situated in the Flathead National Forest in the picturesque Swan Valley on Montana's northwest region, the Holland Lake camping site offers spacious sites that can be easily accessed from the main road. It features 40 camping sites for RVs and tents scattered throughout the two varying loops with portable water and flushing washrooms. No water and electricity available for those with recreational vehicles at this camping site.
There are a vast array of entertaining activities that can be carried out at this camping site, including boating enjoyment, fishing, and swimming at the 400 acres of Holland Lake. A swimming beach and a boat launch are within the vicinity of the campground. Hikers camping at this facility can enjoy swift access to the trails heading to the Bob Marshall Wilderness. You can tag along with your four-legged friends as pets are allowed at this camping site.
Shower facilities, food service, and grocery stores are within 4 miles of the camping site. The recommended length of RV/trailer at this site is 50 feet. It will cost you $15 per day to camp at this camping site. Those wishing to visit this site individually or in a group can reserve in advance.
6. Woodbine Campground
Woodbine camping site is remotely situated near the Absaroka-Beartooth wilderness in the southwest region of Montana. Via the picturesque Beartooth Highway, Woodbine camping site is approximately three hours away from Yellowstone National Park and 57 miles east of Red Lodge, Montana. It is also 7 miles north of Nye.
Some of the recreational facilities available at this camping site include the Stillwater River and adjacent lakes and streams that provide excellent fishing opportunities for cutthroat trout and brown rainbow. Another popular activity enjoyed by the campers is hiking at the trails at Woodbine Falls. The hiking trail begins at the camping site and goes through Woodbine Creek, and leads to an impressive cascade at the end. You can also enjoy horse riding as this camping site gives access to the Absaroka-Beartooth wilderness.
Some of the facilities enjoyed by campers at the Woodbine camping site include group and single sites with campfire rings and picnic tables. Drinking water and vault toilets are also available. Those with the spirit of adventure can enjoy watching wildlife at this campground, including bears, elk, and deer.
While camping at this facility, campers' festivities are organized in Nye's nearby town, including the Nye Goes Nuts, celebrated annually in July. This famous event encompasses drinks, food, music, and chicken chase, and children's games, among many others.
7. Bad Medicine Camping Site
Situated in Kootenai National Forest's heart near the city of Libby in the northwest region of Montana, the Bad Medicine camping site features a wide array of natural scenes, including dense conifers. It provides fishing access, a boat ramp, a picnic area, and amazing views of the nearby vicinity. The campers who are into fishing can enjoy the vast array of fish species available at this camping site, including largemouth bass, kokanee salmon, rainbow trout, and eastern brook, among many others.
Bad Medicine camping site is a modern campground and features 17 sites with parking spurs and paved roads. Water and clean washrooms are also available. Bull Lake at the heart of this camping site gives the guest an exceptional opportunity to enjoy swimming, fishing, and boating.
Just a few minutes away from the Ross Creek Cedars, the campers can enjoy hiking on the well-maintained trails. The massive western red cedars give this facility a spectacular view. Although pets are allowed at this campground, it is mandatory that they are kept on leashes at all times.
8. Afterbay Camping Site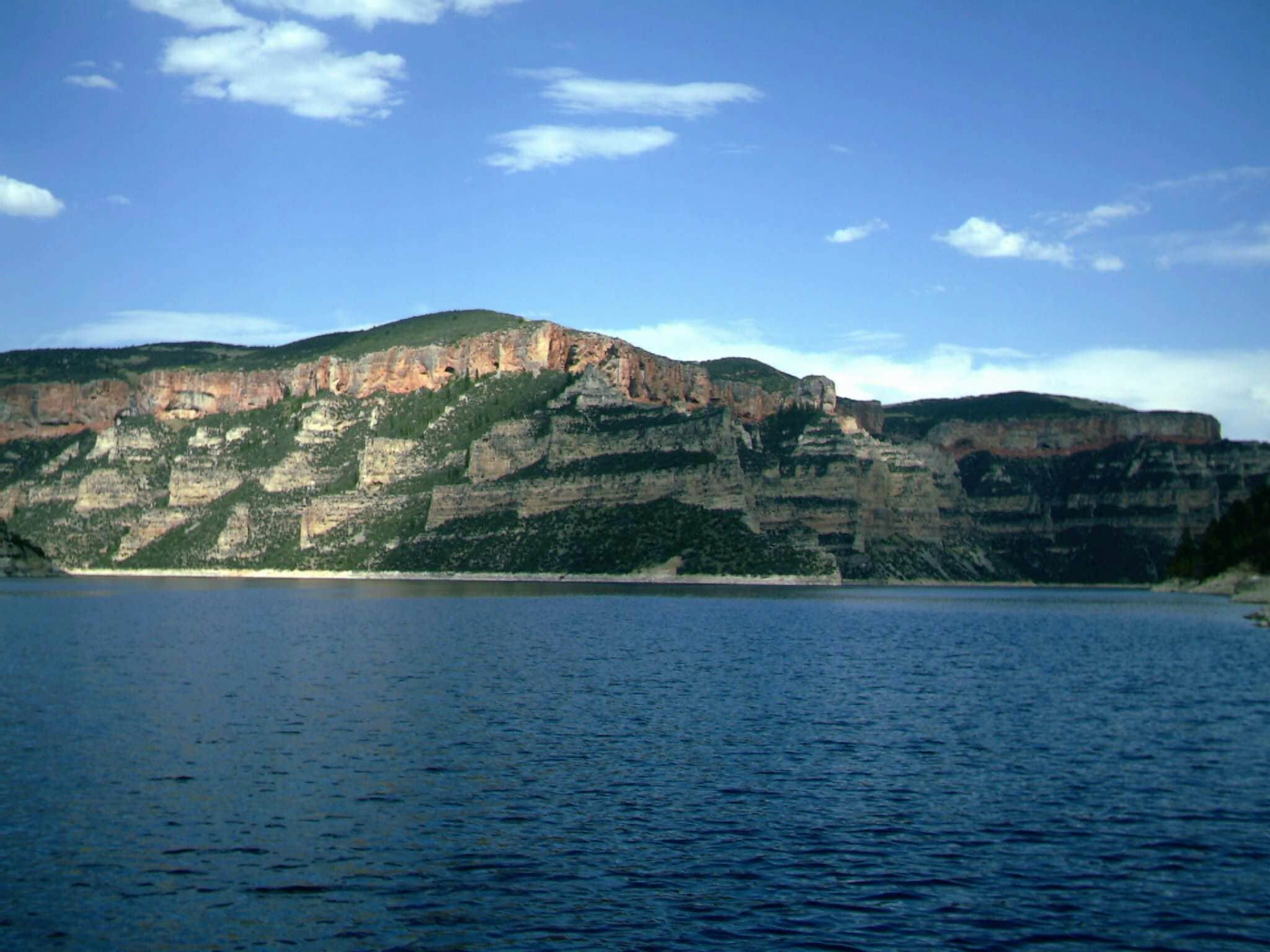 Bighorn Canyon National Recreation Area
Situated in the wild and immense landscape of the National Recreation Area of Bighorn Canyon in Montana, the Afterbay camping site extends for over 120,000 acres. It is positioned between the border of Montana and Wyoming. Guests at this facility are amazed by Bighorn Canyon's thousand-foot cliffs and the vast range of hiking trails close to this area.
Many of the camping sites scattered around the canyon come with a spectacular view. The Afterbay Campground's swift access to the lake makes this place a favorite camping destination for both locals and tourists from across the globe. This campground features 28 tent camping site can also accommodate up to 12 RV sites.
Campers enjoy swift access to boating and fishing. Potable water supplies and vault toilets are also available for the convenience of the guests.
9. Makoshika State Park Camping Site
Situated in Montana's far eastern region in Glendive near the North Dakota border, the Makoshika State Park camping site is one of the biggest state parks in this area. The term Makoshika is translated from a Lakota phrase which means bad land. The Lakota is among one of the three tribes of the Teton Sioux and the Great Sioux Nation that once resided in this barren area.
The landscape of the Makoshika State Park camping site is, as suggested by the Native Americans, it's an expanse of Badlands littered with formations of stark rock. At this camping site, will you enjoy walking in the footsteps of the people of Lakota and view the remains of the great Tyrannosaurus, which have been fossilized, and following actual trails of dinosaur footprints. A visitor's center is also available at this camping site and features interactive exhibits that kids of all ages will find intriguing.
This camping site features 24 varying camping sites that range from regular to rustic. Each of the sites is spacious, and campers can enjoy the convenience of maximum privacy during their stay here. It is also easy to access the various formations of badlands and hiking trails. Every site is conveniently situated close to clean pit toilets.
Conclusion
With the vast array of camping sites with scenic, intriguing, and breathtaking camping sites in Montana, you can never lack a unwind and have a memorable time with your friends and family. If you are undecided on some of the best campgrounds to explore in the Big Sky Country, the above-mentioned sites will be worth your time, money, and energy.
FindCampingGear.com is a participant in the Amazon Services LLC Associates Program, an affiliate advertising program designed to provide a means for sites to earn advertising fees by advertising and linking to Amazon.com. We also participate in other affiliate programs which compensate us for referring traffic.