13 Best Camping Sites in Massachusetts
Though most people know the state for the important role and place it has in American history, beautiful Massachusetts has a lot to offer for both residents and visitors. It is a state full of booming cities, historical sites, and you will enjoy some of the best foods on the eastern seaboard. Additionally, you will admire the outdoors from the interior hills that glow with colorful trees and many perfect
places to hike. The shoreline is incredible and Massachusetts remains a nature lover's ideal location.
Another wonderful thing about visiting the state is the many wonderful camping sites. Being the most populous state in New England it is home to prime camping opportunities if you are an outdoor person. Massachusetts has something for everyone. Here are some of the best camping sites you should visit.
1. Normandy Farms Campground
Normandy Farms Campground which has been in existence for four decades is situated between Boston and Cape Cod. The campground is the destination of choice if you are looking for luxury camping. The facility offers full hookups for those who have their own RV's.
If you want to stay at their facilities then you can choose from yurts, safari tents, and deluxe cabins. Normandy Farms Campground has more than twenty-three miles of hiking trails making it a good choice if you want to explore the beautiful Foxboro State Forest.
The Creative Arts center has endless activities that focus on arts for the entire family. What's more there is a fitness center where you can work out and a dog park for your pet. Normandy is popular as it is on your way to Boston and it is one stop that will make for a great weekend destination getaway.
2. October Mountain State Forest
One great way to get away from the daily grind for a few days is to visit the October Mountain State Forest. It is the largest state forest in Massachusetts, and it spreads for more than 15,000 acres. It is located in the rolling hills that are near the Berkshires part of the state.
The most popular activities include mountain biking, hiking, and cross-country skiing during winter. The facility allows ORV use in some of the areas. The campground has 47 campsites in total, and most of them are primitive hence ideal for tent camping, though authorities allow RV camping. Amenities for hire include Yurts, complete with electricity and running water.
3. Pinewood Lodge Campground
Pinewood Lodge Campground is located in Plymouth "Americas Hometown" and covers an area of approximately 200 acres covered by white pine trees with hundreds beautifully shaded sites. There is also a 50-acre fresh water lake that boosts over 3,000 feet of Lake Frontage, and a six acre island.
You will most certainly spend most of your time soaking up the incredible surrounds at the campground. You will also want to enjoy everything from the library, cocktail lounge, boating, freshwater fishing, and lake swimming. The facility is near the Freedom Trail, the John F. Kennedy Museum, the Cape Cod Museum of National History, and the Franklin Park Zoo.
4. Nickerson State Park, Brewster
Nickerson State Park is a convenient and excellent place to make your home base in Cape Cod. It is the ideal place to visit in between exploring the amazing nearby Cape Cod beaches. The Inland Park is made up of eight amazing freshwater ponds that have sandy shores surrounded by lush greenery and towering trees. The ponds are spectacular and full of fish.
You are allowed to bring your own kayak and go fishing. Alternatively, you can decide to just swim if it is a hot day. One of the most amazing things about the park is that it has more than four hundred parks to choose from. For this reason it becomes easy for you to choose the one you like most. If you want to visit the park with a large group there are many campsites that are ideal for a large party. Nonetheless, if you are looking for something small then you can choose a yurt. These canvas backed structures can accommodate four to six people who can relax in the sheltered comfort that has bunk beds. That's not all; Nickerson State Park has flush toilets and hot shower.
5. Wompatuck State Park
Wompatuck State Park is an outdoor lover's paradise. It is one of the most famous campgrounds in Massachusetts. The park is located near the town of Hingham in the Northeast corner of the state. The park has a large but largely quiet playground that has more than 250 campsites in total.
The best way for you to enjoy the place is to have tent camping. However, there are more than 140 campsites with electricity for RV campers that will allow you to enjoy the beautiful natural area. Other than camping, Wompatuck State Park is famous for mountain biking opportunities as well as hiking. During the winter months cross country skiing and snowmobiling are popular. There are those who love the place because of its proximity to the city of Boston.
6. Adventure Bound Camping Resorts – Cape Cod
The Cape Cod Campground in found near the town of Truro making a nice place for RV's to explore the area. The region is popular because of the rolling countryside, pristine beaches, and the relaxing atmosphere. Some of the famous attractions nearby include Provincetown Museum, Whydah Pirate Museum, and the Wellfleet Bay Wildlife Sanctuary.
Adventure Bound Camping Resorts has won several awards and when you are here you get a chance to enjoy the best of both worlds. There is an idyllic woodland setting that is a few minutes from the sandy sparkling beach. Having many popular attractions nearby is a great plus for the area. Some of the most popular activities in the area include whale watching, fishing, swimming, hiking, and more.
7. Boston Harbor Islands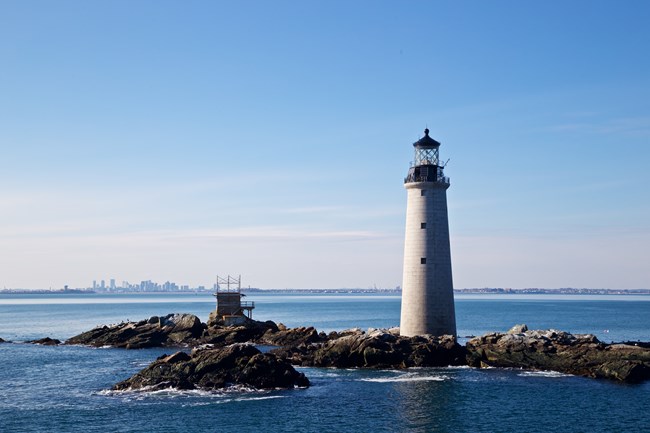 If you are a visitor in Boston and you want to see the states shoreline up close, then you should visit the Boston Harbor Islands Campground. The Boston Harbor is located just offshore from the city of Boston. That makes the harbor island perfect if you are looking for a one day trip. Nonetheless, if you want to stay much longer then you are in luck. The authorities allow camping on four islands: Bumpkin, Grap, Lovells, and Peddocks.
Moreover, there are more than thirty Islands that await you. Come with your kayak and navigate the waters with friends and family. Once you are done you can relax and cool off in the waters along the shores. Additionally, you can go hiking in this place and you will get great rewards by experiencing stunning views.
There are several camping sites that are available for you to choose from including group tent sites for large groups and individual camping sites. There are also well kept yurts that will be ideal for you and your entire family.
8. Peters Pond RV Resort
Peters Pond RV resort is among the best places for family camping on Cape Cod. It is one of the most popular spots on the entire cape. It is set up specifically for RV campers to enjoy. The resort is huge and it has more than four hundred campsites but still has a laidback atmosphere.
Although many of the sites are public, they is no much cramming together like sardines. The resort is the perfect place to start when you want to explore the town of Sandwich and the rest of Barnstable County. Of course, you will want to visit and explore the rest of the Cape Cod National Seashore to have the complete feel of the place.
9. Mt. Greylock Campsite Park
The campsite park is 40 acres and is based in the beautiful Berkshire region. Its location at the foot of Mount Greylock, which is the highest peak in Massachusetts, makes it even more popular. You can imagine the quality pictures that you will obtain from the top of Mount Greylock and the spectacular views from your RV.
Moreover, it is near the US-7, making it easy to get to RV dealerships in Massachusetts, especially if you are a local camper. There are music performances on weekends, a recreational hall, a catch-and-release fish pond, a swimming pool, regular children activities, and much more. You can never get bored while at this Campsite Park.
Other recreational activities include horseback riding, white-water rafting, kayaking, and looking at the beautiful art in the museums.
10. Prospects Mountains Campground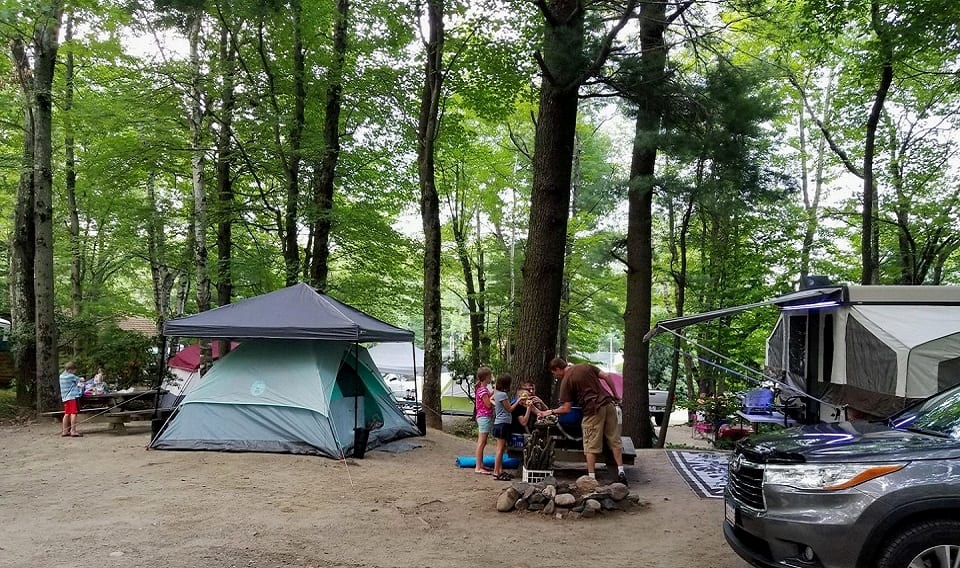 Prospects Mountains Campground is a sprawling campsite found at the foot of the Berkshire Mountains and is ideal for anyone who would want to know the interior of Massachusetts better. The campground is family-owned and the owners run it.
It is among the best places that you can take you family for the weekend out. There are different facilities that are ideal for any type of camping. You can opt to have to have a personal tent or you can bring along the RV. Moreover, the campground has Log Cabins that are available for rent.
When you have settled in, you will get a lot of things to do with members of your family. There are hiking trials of varied difficulty that allow the visitors the chance to enjoy the beautiful rolling hills in person. Prospects Mountains Range is found along the Connecticut River.
Being along the river it ensures you will have plenty of fabulous water activities like swimming. However, you can opt to just sit back and dip your legs in water once you are done hiking. The campground has a swimming pool and other recreational activities that are organized by the owners.
11. Boston Minuteman Campground
Located in the Boston area, Minuteman Campground is near some of the most historic and famous attractions including Bunker Hill Museum, Boston National Historical Park and Gloucester Harbor. It is one of the best RV trips in Massachusetts.
The campground is quite and it prides itself as being family friendly. There are many activities which you can undertake with your children ranging from various sports courts, swimming, playgrounds, and more. Because of its location in the bustling Boston area, it is perfect for Massachusetts RV vacation. What's more, there are many more historic attractions nearby.
12. Salisbury Beach State Park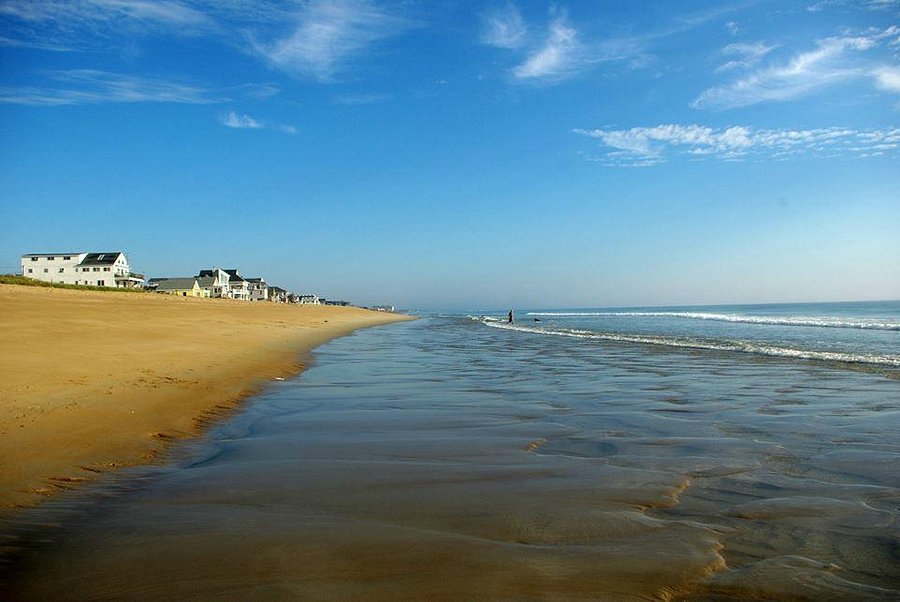 Salisbury Beach State Park is found North of Boston and is 521 acres in size. It has over four miles of beaches and is a popular spot for beach and nature lovers. There are more than two hundred camp sites making it easy to choose the one that is appropriate for you.
The park has fireplaces, bathrooms, and hot shower. There is also a nice playground for kids and a well kept boardwalk. If you own a boat and decide to bring it, there is a ramp that makes it easy to get into the water directly. The site is appropriate if you love what the Atlantic Ocean has to offer.
The area is wild and visitors can walk along the dunes as they watch the tides as they flow in and out. Additionally, you can head of shore and discover the rich fishing areas that make it possible to catch different species of fish. The park is open all year round and is a great place for those who want the Massachusetts shore and are interested in knowing it better.
13. Myles Standish State Forest
The Myles Standish State Forest is one of the best places when you want to explore southeastern Massachusetts. It is less than 50 miles from Boston and it has more than 300 campsites most of which are located near four large ponds, making the place ideal for boating, swimming, and fishing. The facility allows RV camping though there will be no hookups available.
Not only is the place ideal for camping it is also a wonderful place to explore in and of itself. Other activities that you will enjoy doing include horseback riding, mountain biking, hiking, just to mention a few. Ensure you check out the interpretive programs during summer more so if you plan to tag your kids along.
Conclusion
Massachusetts is full of adventures waiting for you, and there are lots of locations to choose from. The states marvelous rivers will offer you great boating experience whereas the Berkshires are ideal for hiking. The campsites are great if you want to create a home base. Visit Massachusetts in person and enjoy what the campsites have to offer.
FindCampingGear.com is a participant in the Amazon Services LLC Associates Program, an affiliate advertising program designed to provide a means for sites to earn advertising fees by advertising and linking to Amazon.com. We also participate in other affiliate programs which compensate us for referring traffic.