10 Best Camping Sites in Michigan
Michigan will undoubtedly be one of the best states to visit for your next camping vacation. Located within the Upper Midwest and Great Lakes regions of the US, this state boasts of the most beautiful sceneries ranging from beaches and bluffs to falls and forests.
Below is our list of the 10 best camping Sites in Michigan; you can plan with any of these sites in mindfor your next vacationing experience.
1. Wilderness State Park Camping Sites
The Wilderness State Park is situated northwest of Michigan. It is a popular destination for most vacationers because of the over 10,000 acres of lush forests and numerous camping thrilling experience. This park sits within 26 miles of the famous Lake Michigan shoreline and provides you with several camping activities. Hikers can use its different trails to access the beautiful landscape, while other campers can use the swimming beach for a cooling relaxation. You can also take a fantastic moment to view the dark-sky preserve, which gives you a view of the beaming night sky.
You can select between the two areas, Lakeshore and Pines, which provides you with more than 200 modern camping sites. There are also rustic sites with bunkhouses and cabins that give you the experience of camping in the countryside. You can always take a time-out to observe the park's hardwood and coniferous forest and ponds.
2. Ludington Dunes State Park Camping Sites
You can better experience a thrilling summer when you come to the shorelines of the Ludington State Park. These sandy shorelines are situated between Hamlin Lake and Lake Michigan, where you can enjoy any form of water sport or dip yourself in the euphoria of the moment by viewing the scenic skyline spread on top of the beautiful lakes. The Dunes particularly provide you with a place to hunt while enjoying the breath of the lake's fresh air.
There are trails within this park that allow you to see the wildlife of nature. If you are keen on having an experience of history, you can always use the nearby historical sites. The Pere Marquette River allows you to fish and boat while bikers may ride around the trails of the Historic White Pine Village.
There are over 330 camping sites on the Ludington Dunes State Park where you can have maximum recreational activities; additionally, there are 3 modern camping sites; Cedar, Beech wood, and Pines. It could be one of your best experiences because you will have the opportunity to camp in one of the vastest parks, which provide nature's best camping option, in Michigan.
3. Tahquamenon Falls State Park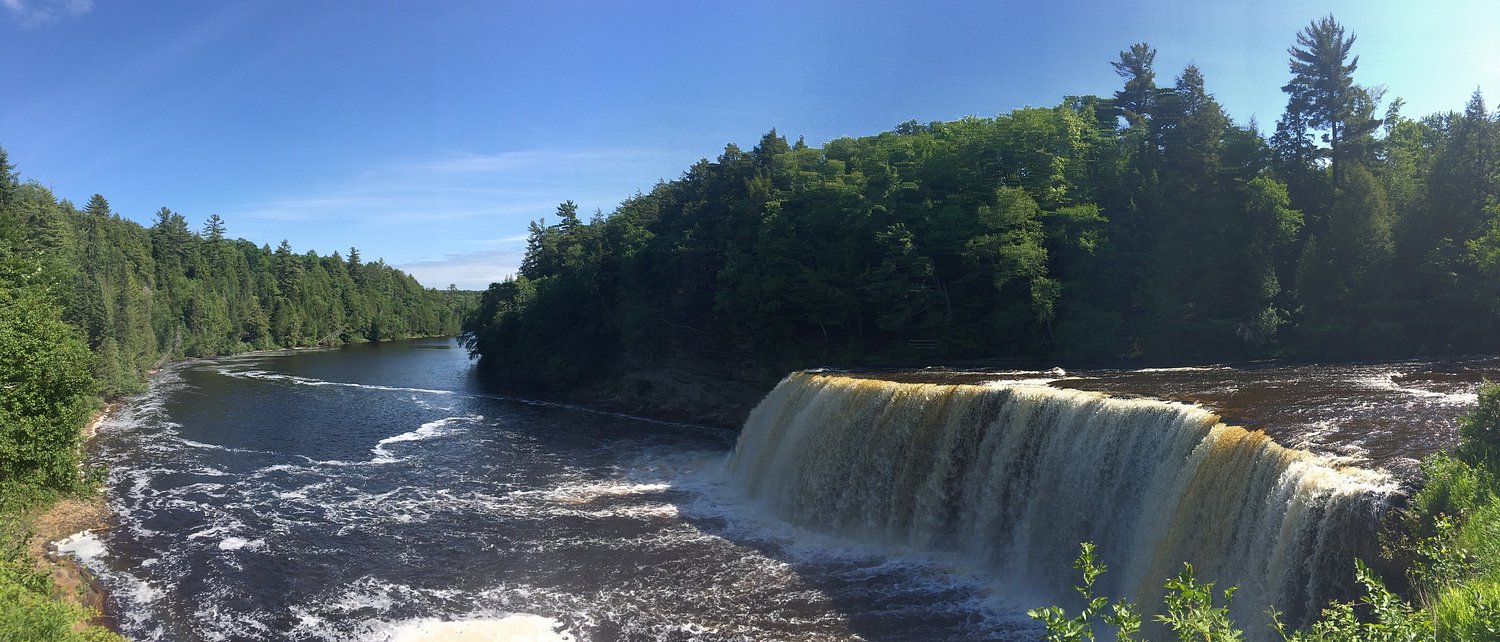 The Tahquamenon Falls State Park sits on more than 40000 acres of land with several options for camping activities. This park is the second largest in the state of Michigan and offers a relaxing home- away-from-home experience.
One of the spectacular sights to behold is the Upper falls and Tahquamenon River, which allows you to go water-sporting. You can always take the water trail path from the lower falls to Lake Superior using a canoe or row directly onto the Lower Falls Island using a boat. Hikers can particularly use this Island for some minutes of hiking time before going back to their camping site.
The staff will guide you if you want to access nature's wildlife. The park boasts of two vast camp spaces, one of which is located at the Rivermouth and the other is on the Lower Falls. These camp spaces offer more than 300 camping sites, which combine the mixtures of an old rustic look with modern camping. You can always use any of these camping sites as your base to view the scenery meadows provided by the different parts of this park.
4. Pigeon River State Forest Camping Site
If you are looking for a wildlife outing experience, you may want to visit the Pigeon River State Forest, which sits east of the Mississippi and is home to the largest herds of elk. It sits on over 100000 acres of land and provides a vast vacationing experience. You can relax in the typical rustic camps, explore the several trails and lakes, and go boating, fishing, hiking, or swimming.
The campground on this forest is located deep inside the woods, at the Pigeon Riverbank in Otsego County, and allows you to have the best exploration of nature's trees and animals. You can use any of the 14 camping sites, which provide access to several camping opportunities like fishing, hiking on different trails, and wildlife hunting. Amenities like vault toilets, fire rings, potable water, and picnic tables have been provided on the camping sites. You can have your horse camping at Johnson's Crossing or Elk Hill, located close to the Mackinac Trail.
You can take some time to drive around this vast wildlife land and explore the woody terrains or visits the various camping sites. The Elk Hill campground has about 10 camping sites for lovers of horseback riding, while other dispersed camping sites may be used for any of your thrilling camping moments.
5. Port Crescent State Park
Port Crescent State Park can be said to be a sunrise park side for camping activities. This park boasts more than 100 camping sites, which offer vacationers different experiences ranging from skiing and hiking to the evening time beautiful star gazing. This park provides full hookups and is the ultimate size for smaller campers. The different camping sites give you a picturesque waterfront view. You can also experience the glamor of watching the sunset upon the beautiful landscape.
The park's dark preserve makes you view the brimming stars during the night since limited light is provided at this time. You can also view these stars from the comfort of your camping site; if you would rather prefer to relax there, take a peek on your laid blanket using the viewing platform.
Winter camping gives you one of the greatest adventures as you can have the best of skiing and hiking. You will undoubtedly have the best time stargazing during the cold, less humid and long nights of the winter. Don't forget to view the scenic bay using the wooden boardwalk in the park.
6. Sleepy Hollow State Park Camping Sites
You can choose from the several camping sites, which sit on about 2600 acres of space on the Sleepy Hollow State Park for your next vacation. This park is located north of Lansing and boasts of giving arrays of camping fun-time for vacationers. The park winds through Lake Ovid and some of the areas here provide fun-time of metal detecting and snowshoeing.
This East Central Michigan park exposes you to the view of more than 200 species of wildlife Bikers and hikers can make use of the 14 miles trail on the park for their biking and hiking activities while also experiencing the best view of nature's fauna and flora.
You also have access to two hunting blinds, the hydraulic lift bling, and the ground blind, and you will undoubtedly like the view of the different hardwood, prairies, and pine trees as you hike or bike along. You can easily access the over 170 camping sites on this park by walking, boating, or driving in. If you would like to know more about the park's history, you can be a part of the park ranger program.
7. Warren Dunes State Park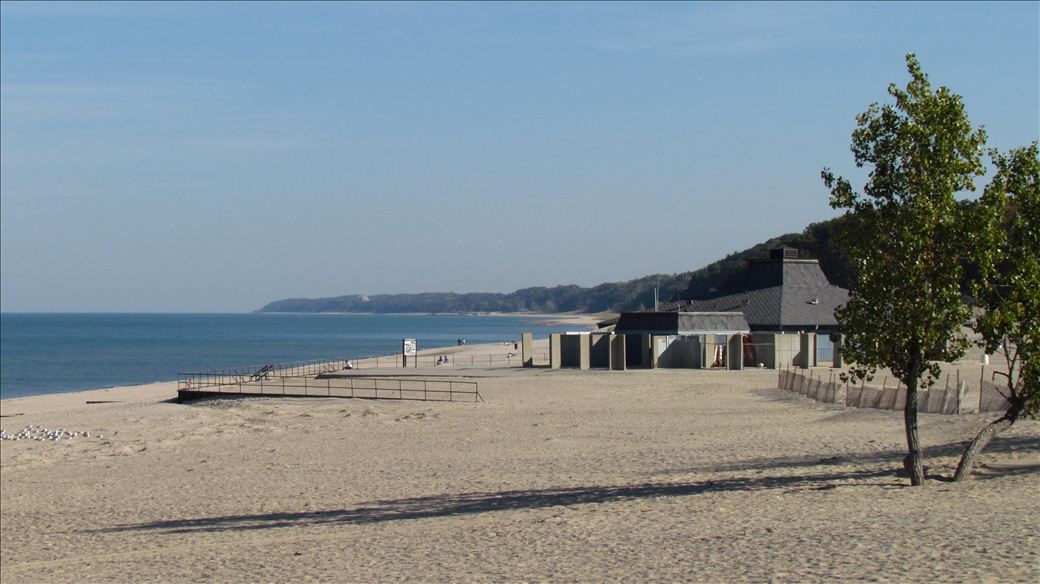 Warren Dunes State Park is popular for its sandy dunes, which run along Lake Michigan's shores. One of the best exploration experiences you can get here is the view from the Tower Hill dune. This dune stands at about 260 feet above the shorelines and allows you to view the magnificent scenery of the park's natural terrain. You may relax on the soft sand here and soak yourself up in the sun or breathe a breath of fresh sandy shoreline air.
If you are not interested in the sun, you can always relax in the cool and shady Warren Dunes Campground, which allows you to choose from about 200Rv and tents camping sites that offers a mixture of semi-traditional with modern camping space. There is also a provision for you to rent a cabin.
There are several trails you can use for biking or go for a walk exploration on this park. The camping sites also offer multiple playground environments for adults and kids. Take an amazing after-outing relaxing moment by making use of the bathrooms and showers provided on this site.
8. Fisherman's Island State Park Camping Sites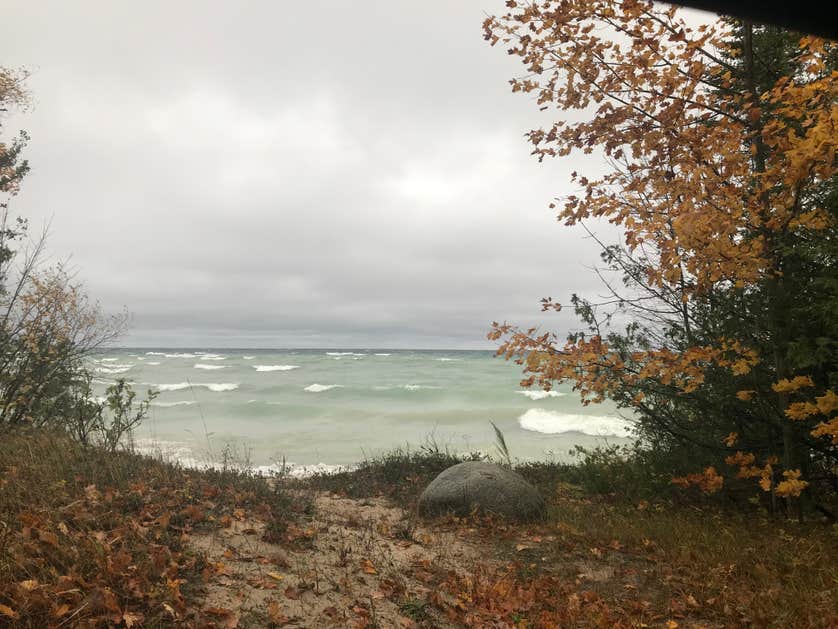 If you like the breath of wooded forest spread within rolling dunes, then you may as well head to the Fisherman's Island State Park. These dunes give an absolute sight of picturesque sandbanks because they are covered with birch, black spruce, maple, and aspen that have been fragmented by cedar bogs.
This park sits on 2600 acres of land and provides about 80 old fashion camping sites. The park is connected to mainland Michigan by a tombolo caused by fluctuations of natural water. Camping here gives you the experience of viewing the beachfront, and you can also take time out to swim or hike on the hiking trails.
You may also visit the Castle Farms, where you can wander within the lush grounds, or tour the historical Mushroom houses at Charlevoix. If you like waking up to the sound of roaring water waves amidst the beautiful scenery of sylvan trees, you may explore many of the camping sites on this Island Park.
9. Mackinaw Mill Creek
If you are looking for a family-friendly camping site, you may explore the various options that the Mackinaw Mill Creek provides. The camping sites here have once been described as the "Top Family Friendly Campgrounds" among others in Michigan. Just a 3-minute drive from the popular downtown Mackinaw City, the Mackinaw Mill Creek provides you with several camping activities ranging from biking and swimming to golf playing.
You can also sight-see the beautiful prairies, which sit on about 200 acres of space. The panoramic views from the Mackinac Island, Mackinac Bridge, and Strait of Mackinac give most vacationers a thrilling moment where they can take several pictures of this beautiful view. You may decide to take a ride or trek back to the city if you want to experience the bustling community or get anything after your camping activities.
The Mackinaw Mill Creek has over 200 RV camping sites, ranging from large and extra-large to medium and small. You should expect everything from natural to modern endeavor when you take a time-out Round Island, St. Ignace, and Bois Blanc Island while exploring the scenic nature at Lake Huron shores.
10. Hoffmaster State Park
The P.J. Hoffmaster State Park winds its way through Lake Michigan and extends into about 1200 acres of woody forest, giving a beautiful atmosphere for most vacationers. You may take a walking time and explore the 3 miles of sandbanks of Lake Michigan on this park. Most campers like to see the beautiful view of Lake Michigan from the topmost dune. You can head to the Dune Climb Stairway to get to the highest point of this dune.
If you want to view some historical attractions, you may go to the nearby Muskegon, which offers numerous antiques. There are about 300 camping sites provided on a single campground at the Hoffmaster State park, and you can visits this place from May to September. Hikers can use the different hiking trails provided here to have a soothing and adventurous outing before resorting to their camping site.
You can also make your way through the Dune Overlook trail by exploring its over 200-step climb, which lands you in the scenic view of nature in half-mile. The Homestead trail gives steep hiking, and you can stop at the lake to have a comfortable near sight. Several other trails extend from the park's shoreline towards the Ferrysberg, providing alternative means of exploring the grassy prairies terrains.
Conclusion
From the very picturesque view of its wooded forests and great winding rivers and lakes, Michigan gives the best camping experiences for both locals and visitors. The scenic environment of most of the park's camping sites gives room for the thrilling moments you may be looking for. The next time you are considering a place for your camping exercise in Michigan, choose any of our best camping sites for that amazing experience you want.
FindCampingGear.com is a participant in the Amazon Services LLC Associates Program, an affiliate advertising program designed to provide a means for sites to earn advertising fees by advertising and linking to Amazon.com. We also participate in other affiliate programs which compensate us for referring traffic.