14 Best Camping Sites in New Mexico
New Mexico with its diverse terrain that includes sand dunes, canyons, caves, desert, mountains, and more is home to some of the best camping sites in the United States. What's more, there is an abundance of wildlife, and you can clearly see the Milky Way at night. No wonder many people are of the opinion that the state was made for camping.
New Mexico has a huge range of camping opportunities from amenities filled RV camping to primitive tent camping to free remote camping and more. Additionally, you can choose to comfortably camp all winter long in some of the campsites.
Thanks to its semi-arid climate, many of New Mexico's best camps can be enjoyed throughout the year. Even though the northern parts of the state enjoy snow during winter, the low-lying desert region in the south will enjoy warm weather. It is a great place to visit if you are tired of the cold.
Are you wondering where you can leave your RV car or pitch tent in New Mexico? Below are some of the best camping sites in the Land of Enchantment.
1. Santa FE Skies RV Park
Santa Fe Skies RV Park is family owned and located on a ridge outside Santa Fe, which is the oldest capital in North America. While at this park you will get a panoramic view of the entire area as you feed your eyes on the Sangre de Cristo Mountains, Ortiz Mountains, Cerrillos Hills, Jemez Mountains, and the Sandia Peak that are nearby.
There are several restaurants, two shopping malls, and a supermarket that are a short driving distance from the park. Just outside the park is the famous Turquoise trail that has the historic village of Los Cerrillos. Moreover, the area is full of local businesses that operate on a daily basis.
The RV parks in New Mexico offer pull-thru and back-in sites that are equipped with electrical service. Every pull through site has sewer and water services. If you have a special event the park has two conference rooms. Santa Fe Skies RV Park charges $ 63 per night but if you pay for six nights the seventh one is free.
2. Wild Rivers Recreation Area

The Wild Rivers Recreation Area is where the scenic and wild river Rio Grande and Red River meet. There are great hiking areas including the La Junta overlook and easy jaunt that offer amazing views of the Rio Grande Gorge and its meeting point with Red Rover.
The Wild Rivers Backcountry Byway is 13-miles long and provides access to scenic viewpoints, recreation areas, trails, and five fully developed campgrounds. The site has a visitor's center where you will find maps and hiking information.
3. Santa Rosa Campground and RV Park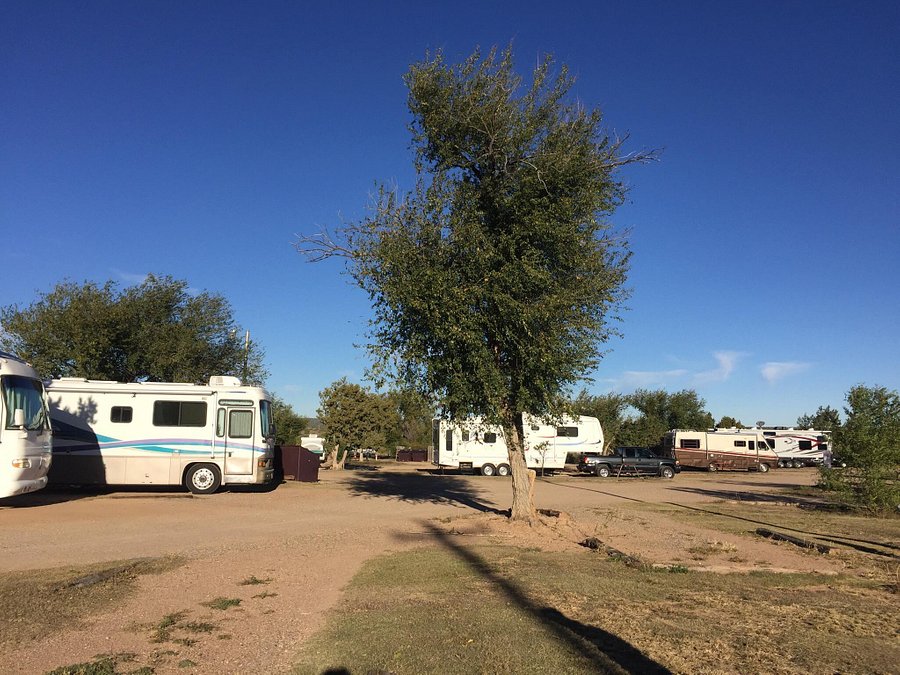 Santa Rosa RV Park is on the historic Route 66 in Santa Rosa and boasts of over 100 different sites, from RV hook-ups, tent sites, to a comfortable cabin that ensures you get the ultimate rustic experience. There are many things to do in Santa Rosa even for the most demanding campers. Some of the most famous attractions are Billy the Kid Museum, the Blue Hole, and the Pecos River Bridge.
Additionally, it is home to some of the most popular Scuba diving destinations. The campground has a BBQ restaurant on-site that features the best Baby Back Ribs in the entire state. You can have the ribs delivered to your tent after a long day on the road. The rates at the camp vary depending on the season, length of stay and desired services.
4. Navajo Lake State Park

Navajo Lake State Park is open all year round. It is home to some of the best camping in New Mexico regardless of the season. Being the second largest lake in New Mexico, Navajo is a hub for fishing, swimming, canoeing, kayaking, and motorized boating.
Fishermen enjoy visiting the San Juan River for world-class trout fishing. Hiking trails are found on both sides of San Juan River and the Simon Canyon Trail leads towards the ancient defensive structure.
The park has 7 campgrounds that have more than 240 developed campsites. Cedar Campground and Pine Campground are two of the most popular sites in the park.
5. City of Rock State Park
City of Rocks State Park got its name from monolithic blocks that formed over 30 million ago carved from wind and water. The park is found between Deming and Silver City and it offers wildlife viewing, mountain biking trails, hiking, camping, and picnic areas. There is also a botanical garden, bunny ear cacti, and a star observatory inside the park.
All the sites in the campground have water and electricity, as well as primitive camping sites that are free to visit. Amenities include vault toilets, showers, and restroom with hot water. You will have to part with $ 14 per night to get a developed site with a hook-up; where as the ordinary tent will charge $ 8 per night. There is a small discount if you make your reservations online.
6. Bottomless Lakes State Park
Bottomless Lakes State Park is located 14 miles South of Roswell, New Mexico. The facility is a cluster of 9 lakes that the early explorers thought were bottomless. They are not actually lakes but sinkholes that range from 17 to 90 feet deep.
Many of the sinkholes are surrounded by red rock cliffs and they appear bottomless because of the underwater plants that have a greenish-blue color. The Lea Lake Campground which is the most famous is found along the shores of Lea Lake and has 32 campsites suitable for both RVs and tents.
Each of the sites has electricity, and ten of the sites have sewer hook-ups and running water. Other amenities in the facilities include warm showers, free Wi-Fi, fire rings, paddleboard rentals, and picnic tables.
7. Enchanted Trails RV Park and Trading Post
Originally it was known as Hill Top Trading Post, and it is found on the famous route 66 in Albuquerque. The Trading Post was built in the 1940's and has a nice historical touch to it. Thanks to the charm it provides the property has featured in several movies.
It has several vintage curiosities such as a mangle iron and a ringer washer. While here you will be able to observe Native American Crafts as well enjoy the Southwestern foods and spices. The facility has back-in sites and pull-thru for your RV. The charges at Enchanted Trails start at $ 37 per night.
8. Jemez Falls Campground
The Jemez Falls Campground is well located in the area of New Mexico as it is near recreational areas, restaurants, and a supermarket. It has 52 campsites which are perfect for small RVs and tents. The campground is quite and located in a strand of ponderosa pine inside the Santa Fe National Forest.
Thanks to its high elevation (over 7,000 feet above sea level), temperatures are reasonable, even during summer. There are several hiking trails including the East Fork Trail that is near the site.
9. Turquoise Trail Campgrounds
They are located in the Sandia Mountains on the historic Turquoise Trail. The biggest advantage about this site is how near it is to colorful city of Albuquerque. Therefore, as a visitor you will easily access some of the most fabulous restaurants, museums, shopping centers, and theaters.
Moreover, there are many other attractions including Albuquerque Biopark, International Balloon Museum, aquarium, botanical gardens, and a Zoo. Turquoise Trail Campgrounds offers cabin RV, and tent camping in a mountain meadow that is surrounded by the Sandia's wilderness.
The place has full hook-ups and pull-thru sites that are connected to electricity. What's more, the tents are isolated from the RV Park, and they have back in water. Being isolated gives you a chance to relax and feel safe from bubble and hustle of daily life. If you are looking to spend the night inside a cabin, you will get both the budget and the deluxe ones.
10. Heron Lake State Park
The park is located on the Northern part of New Mexico outside Los Ojos. Hero is quieter than most of the lakes in the state and boats in this area are restricted to particular speed limits. It is one of the best destinations for paddling and sailing.
It is known for its excellent fishing and numerous record size trout and kokanee salmon. There are several playgrounds where you can choose from and several primitive campsites on its beach.
11. Aguirre Spring Campground
The Aguirre Spring Campground is surrounded by the Chihuahua Desert and Organ Mountains giving you a unique opportunity to spend the night in a secluded site. It overlooks the White Sands National Monument and Tularosa Basin presenting spectacular views of the starlit sky at night.
Amenities in this campground include fire rings, picnic tables, and pit toilets. You should be aware that there are no hook-ups at Aguirre Spring campground. However, you can stock up on the water that is available at the entrance of the park.
The park has two group sites available and they are perfect if you are in a large group. The group sites are perfect for workshops, team building camping, or family reunion and you will just pay $ 50 per night. For individual visits you will part with $ 7 in a night. The park works on a first come first serve basis and does not allow reservations.
12. Columbine Campground in Carson National Forest
There is no much seclusion at Columbine Campground because of its popularity. The site is regularly packed with RVs and tents especially during summer. You can pitch your tent and enjoy the sound of spruce and pine forest and fall asleep to the gentle sounds of the Red River as it flows nearby.
The floor of the forest is dotted with luminous red thimbleberry florets and yellow columbine where the canyon derives its name. If you are a morning person, you should go to the Columbine-Twining National Recreational Trail that leads to the Columbine Hondo Wilderness Area.
If you make reservations for a llama trek in advance with Wild Earth Llama Adventures you will have a camel lid carry your pack along the trail.
13. Bonito Hollow RV Park and Campground
Lying in the heart of Lincoln National Forest, Bonito Hollow RV Park offers numerous waterfalls, hiking trails, and summer horse races. It spreads across 12 acres along the Rio Bonito and near Lake Bonito. When you are in the area you can enjoy fishing and wildlife viewing.
If you visit the park during winter you will get the opportunity to visit the Southernmost Skiing resort in the United States known as the Ski Apache. It is quite rare to see snow this south of the country and having it will make your stay truly adventurous.
Bonito Hollow has back-up sites and pull-thru, which are connected to electricity, water, and sewer. All the spots in the area have a fire ring and a picnic table. You can either camp in the forest or Rio Bonito depending on your personal preference. There are tents available and the charges start at $ 40 per night; including one car and two people. For every additional person you will have to part with $ 5 per night. Children under the age of ten camp for free.
14. Along The River RV Park, Campground and Cabins
The park is found inside the Lincoln National Forest and features breath taking mountain views, rich wildlife, and star studded night that you can enjoy watching from your campfire. The place has vineyards and they make their own wine.
The campsite attracts visitors of all age groups but is most popular with those looking for tranquility and want to connect with nature. Along The River offers wooden cabins, tent sites, and RV camping. The RV sites have both partial and full hook-ups and they start at $ 39 per night on the non-river side.
On the riverside spot you will have to part with $ 42 per night. The primitive campsites are not far away and you can comfortably walk. They are equipped with restrooms and showers and you will pay $ 30 per night. For the small cabin you will pay $ 64 per night.
Conclusion
If you are a camping enthusiast the New Mexico is the place to be. You will have the opportunity for RV and tent camping but also enjoy tufts and cabins if you have the money for it. Most of the campsites in the state are open all year round. What are you waiting for, pack your bags and visit, New Mexico is waiting for you.
FindCampingGear.com is a participant in the Amazon Services LLC Associates Program, an affiliate advertising program designed to provide a means for sites to earn advertising fees by advertising and linking to Amazon.com. We also participate in other affiliate programs which compensate us for referring traffic.