9 Best Camping Sites in Ohio
Situated in the United States Midwestern area, Ohio is the home to remarkable natural views, rugged mountains, deep forested valleys, and tranquil lakes. It is the perfect destination for camping, hiking, and biking as it is a quiet and peaceful area to unwind and enjoy the goodness and simplicity of nature. It is believed that camping in this area helps to better relationships, reduce stress, boost vitamin D, and improve memory.
If you are new in Ohio and wondering about some of the best camping sites to explore, then you are in the right place. This piece will enlighten you on some exciting and interesting regions to explore within Ohio with your friends for a delightful weekend getaway.
Let's get to it.
1. Mohican State Park
Situated in the Northeast Region of Ohio, the Mohican State Park camping site features electric and non-electric campsites, camper cabins, a swimming pool, commissary, and full hook-up campsites. The park is pet-friendly. It is best used between 1st April and 31st October. Each camping site in this park comes with a fire ring and a picnic table. RV sites encompass full service with water, 30/50 amp electricity, and sewer. Additionally, there is a dump station situated on the grounds.
From Downtown Columbus, the Mohican State Park is 78 miles away. During peak season, you will be charged $30 per night to camp at this campsite. Full-service campground, spa and heated indoor pool, restroom facilities, and pristine shower are offered. A catch and release 4.5-acre lake for fishing is also available with no permit needed.
Mohican State Park Camping site and the neighboring state forest provide limitless opportunities for locals and tourists to explore due to its unique and outstanding natural scenic views. The striking Hemlock forest, Clearfork Gorge, and beautiful Mohican River provide a wilderness experience. Additionally, the resort cottages and lodges offer luxurious accommodations.
This park gives you an opportunity to interact with nature. It is the home of a vast range of wildlife, including red fox, raccoon, skunk, white-tail deer, poisonous copperhead, dusky salamanders, black rat snake, American toads, wild turkey, and many more.
Surrounded by the Mohican State Memorial Forest, the camping site encompasses animal diversity and a wide range of plantations and tree species. Ridge tops comprise red, black, and white oaks, red maple, and white pine. The middle section comprises tulip, ash, and beech, while the lower slopes encompass yellow birch and hemlock, willow buckeye, dogwood and hawthorn, and sycamore.
2. Shawnee State Park Campground
Situated in the foothills of Appalachian near the Ohio River banks, Shawnee State Park campsite is positioned in the 60,000 acres of Shawnee State Forest. The most picturesque region of the park features wooded hills and erosion-carved valleys. It has been nicknamed the Little Smokies due to its rugged beauty.
You will be charged $24-25 to camp at this park with electricity during peak season. From Columbus, the campsite is located 105 miles away. Some of the amenities featured in this campsite include beach, boat launch ramp, convenience store, fire rings, comfort station, horseshoes, hiking trail, parking, hunting, miniature golf, picnic tables, shelter house, ranger station, swimming, showers, volleyball and tennis court among many other facilities. The campsite is also pet-friendly.
The hardwood forests at this campsite host a vast range of flora and fauna. There is an abundance of wildflowers, including a number of rare species of orchids such as the showy orchids and tiny whorled pogonia. Forest wildlife encompasses wild turkey, white-tailed deer, various songbirds, raccoons, and a rare sighting of black dear and bobcat.
There are 107 sites for the family campground that are ideal for trailers or tents. The campsite features waste disposal, electric hook-ups, laundry facilities and flush toilets, heated shower houses. On a limited number of campsites, pet camping is available. Close to Bear Lake at the state forest land, A 20-site campground for horseback riders with restrooms is available.
3. Hocking Hills State Park Campsite
Situated in Logan in Ohio, Hocking Hills State Park Campsite offers a number of recreational opportunities in a superb natural setting. Featuring waterfalls, cliffs, and deep hemlock-shaded gorges makes it ideal for naturalists, hikers, and campers. A background of famous accommodation and facilities are available at this campsite.
You will be charged $30 to $60 per night to camp at this campsite that features electricity during the high season. The Hocking Hills State Park Campsite is 57 miles from Columbus. Some of the amenities in this park include showers, swimming pool, camp store, 153 electric sites, dump station, flush toilets, horseshoe pit, volleyball court, and playground.
The Hocking Hills State Park campsite features beautiful and fascinating caves with sandstones, rocks, and shales. The composition of the sandstone varies from rugged to soft. The recess caves at Old Man's Cave, Ash Cave, and Cantwell Cliffs are carved in the middle zone that is softer. Erosion and weathering make the widened cracks at the Rock House have a unique and fascinating outlook.
Other wildlife features in this campsite include slump blocks and honeycomb weathering, cross-bedding, and cemented sand grains.
This campsite offers a perfect chance for those with the spirit of adventure to relax and unwind from the busy and stressful city life.
4. The Super Seven Campsites
Situated on the South Bass Island State Park, the Super Seven Campsite is famous for its large grove of oak trees, making it one of the perfect spots for camping. These campsites are positioned on a 40-foot-high bluff that offers the ideal sceneries of Lake Erie. You can enjoy the fantastic sunset and boats on the Lake as you enjoy the breathtaking waves and calm winds at the shores.
In the southwest region of the island, there are a total of 135 campsites that are owned by the state. Recreational vehicles and tents are available at this campsite. Campers can enjoy the ambiance and tranquility of camping on this serene side of the island.
There is a boat launch, swimming beach, and a fishing pier on this campground, which was once the location of the Victory Hotel that was put ablaze in 1919. You can access this campsite through ferries from Port Clinton or Catawba. From Columbus, it is roughly three hours away.
5. John Bryan State Park Campground
Situated near Yellow Springs in Ohio, the John Bryan State Campsite has the most scenic views in the western Ohio State Park. The 752-acre campsite encompasses an incredible limestone gorge through the Little Miami River, classified as state and national Picturesque River. A section of the gorge is also classified as a national natural landmark.
The John Bryan State Park campsite has a spectacular campground. However, it is specially set up for tent campers only. Many of the RV sites in this campsite are not electric. The surface of the site is not very long. Clean and well-maintained pit toilets are available at this park, although it lacks shower facilities. Most of the sites with RV are in the sun. The TV reception at this campsite is extremely good.
Although the campground has a camp host, they won't interfere with your amusements and fun. It is a perfect spot to unwind and hang out with your family and friends. Campfires in this park are permitted. Thus the campers can enjoy a fun and interactive night at the park.
The John Bryan State Park Campsite has 24 sites and ample parking for vehicles. You are required to come with your truck and van campers, RVs, trailers, and tents. Each site can accommodate up to 6 guests. Pets are allowed in this park. A picnic table and potable water are also available at this campsite.
6. Indian Lake State Park Campsite
Situated in the Central Ohio region, the Indian Lake State Park Campsite offers a vast diversity of water-related recreational opportunities including fishing, boating, skiing, and camping. The park features marshy, shallow natural lakes, including Blake Lake, Old Indian Lake, Otter Lake, Sheep Buck Wheat Patch, and Pen Lake, and is positioned in 640 acres of land.
The present and enormously bigger Lake lies within one of the significant migration avian routes in the country. Indian Lake campsite is a vital resting stop for ducks, Canada geese, swans, herons, and egrets. Most of them stay over to nest over the summer. Bald eagles used to be common around this campsite. However, it is hard to found them nowadays. Ancient American history explains that the tribes of Indians that resided in this campground used to hunt as it is close to the Miami River.
In this park, there are 443 campsites for trailers or tents on the lakeshore's northwest region. The campground's magnificent views provide heated shower houses, electric hook-ups in most of the campsites, flush toilets, camp commissary, and laundry facility. A boat ramp, beach, and boat docks are offered exclusively for camping use. Although camping sites are available for pets, they are limited.
The group camp at the park can be reserved by registering in advance. Spaces for boat camping that are available are twenty. Two camping cabin units are available for rent. One unit can accommodate four campers, while the other one can accommodate six campers. Equipment offered includes a gas grill, microwave oven, refrigerator, ceiling fans equipped with light, window air conditioner, two chairs and table, and two futons.
7. Findley State Park Camping Site
Situated near Wellington in Ohio, the Findley State Park Camping site is heavily wooded with a vast range of hardwoods and stately pines. The campers can enjoy the scenic views of spectacular wildflowers and wildlife viewing. The forests, fields, and quiet waters provide a peaceful sanctuary for the visitors.
The region of the state is commonly referred to as Ohio's dairyland. Cows and crops are a common sight at this campsite. At the heart of this area rich in agriculture lies the forest oasis located within the Findley State Park. The camp encompasses wild black cherry, red maple, red and white pine, and beech. The forest also supports a number of woodland wildflowers, including Dutchman's breeches, bloodroot, hepatica, marsh marigold, bloodroot, woodland asters, and trillium.
Some of the wildlife you could encounter at this camping site include red fox, white-tailed deer, raccoon, and beaver. A vast range of amphibians and reptiles can be tracked along the lakeshore. One section of the camping site is set aside as a refuge for the Duke's skipper butterfly, which a very rare insect is.
8. Countryside Campground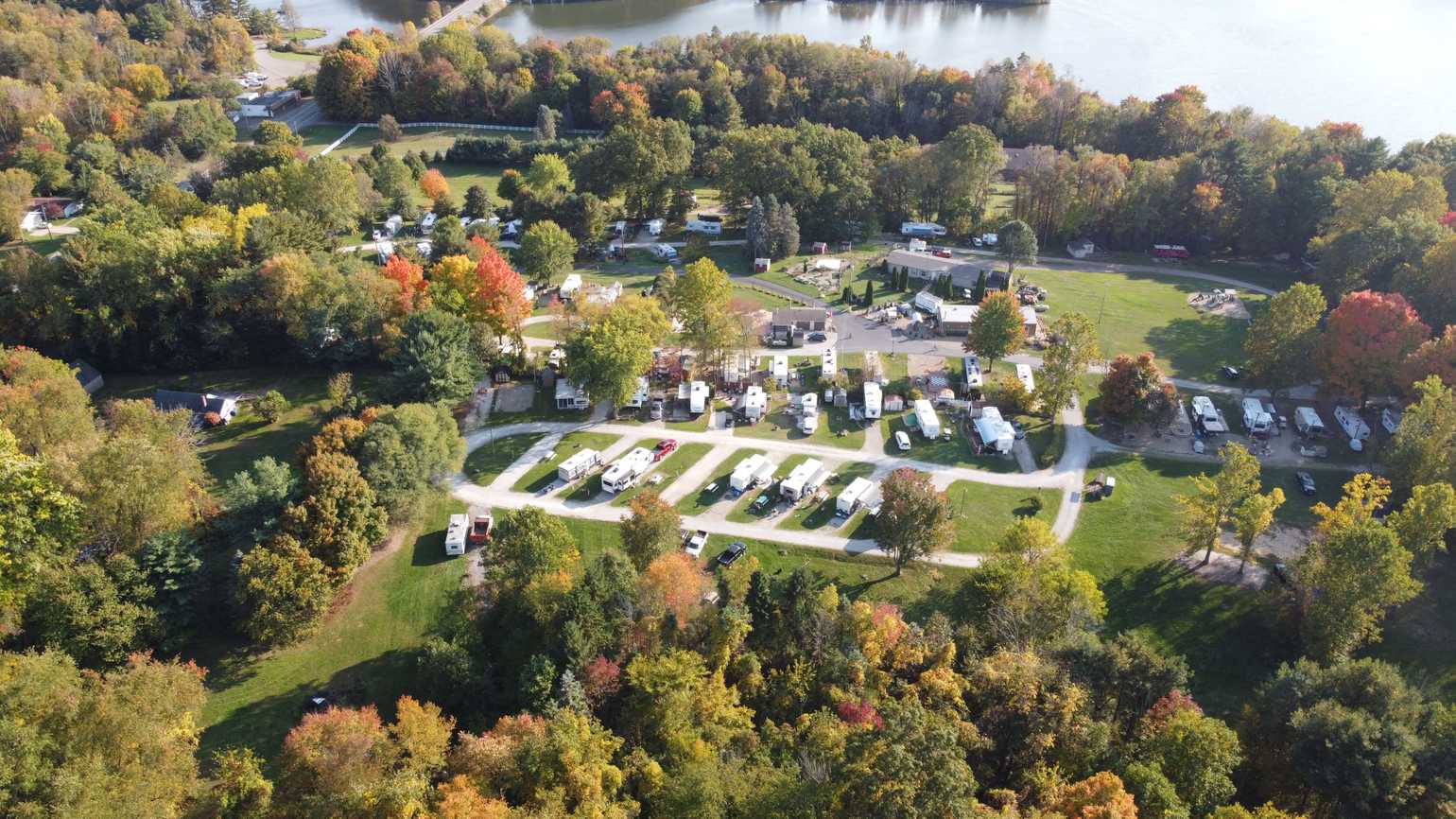 Situated near Akron in Ohio, the Countryside Campground features 95 RV sites. Many of the sites can accommodate double-slide-outs and pull-throughs. Areas with water and electricity and also full hook-up sites are also available.
The camping site provides a propane filling station with the ability to fill your motorhome or 20lb and 30lb tanks. The campground is primitive, with sites situated in an attractive setting with plantations surrounding the area. Each site features fire rings and picnic tables. There are private operators available at the campground.
You can access the Countryside Campground mainly via walk-in, drive-in, boat-in, or hike-in. Some of the features enjoyed by campers on the site include drinking water, electric hook-ups, alcohol is allowed, firewood, market, picnic table, toilets, showers, trash, Wi-Fi, Trailers and RVs, fire as well as pets is permitted.
9. Alum Creek State Park Camping Site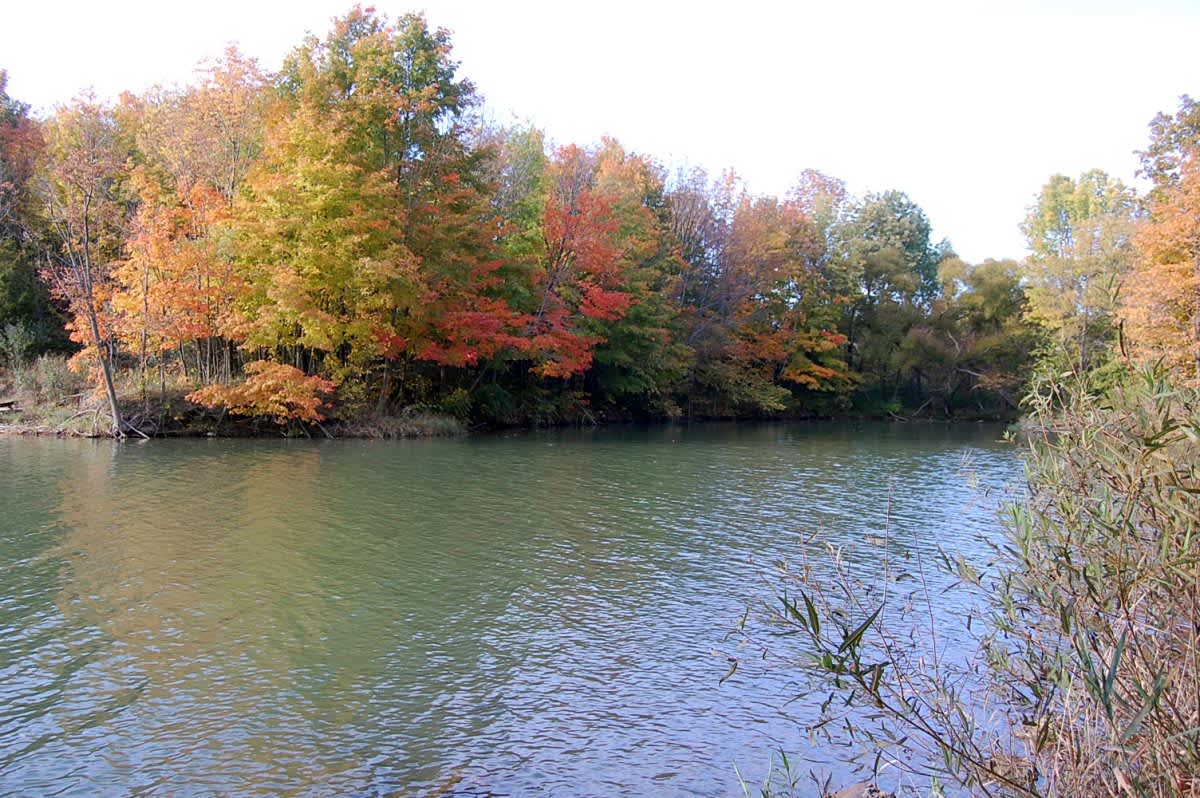 Situated near Delaware, Alum Creek State Park Camping site is an enormous reservoir and moderately rolling span of woodlands and fields that offer a hub of recreational functions a few minutes away from Ohio's capital city. Quiet coves positioned among shale cliffs are a perfect spot for anglers in the park's northern region. Many visitors flock here to enjoy the sunset on the largest inland beach in the state.
This camping site is situated within the river valleys and fertile agricultural till plains in Delaware County. Different from the surrounding farmlands, the camping site provides a vast array of natural landscapes. You will enjoy the views of the cliffs of Ohio shale from this campground.
The woodlands at the Alum Creek State Park camping site harbor a vast array of plant species and provides the campers with beautiful sceneries of wildlife and wildflowers. Wild geranium, bloodroot, big-flowered trillium, and spring serve as a carpeted floor of the forest. The park is the home to the woodchuck, fox squirrel, white-tail deer, rabbit, and many more wild animal species.
This camping site is a perfect destination for campers with the spirit of adventure. You will interact with nature as you unwind from the busy city lifestyle.
Conclusion
If you are a lover of nature and adventure, you should consider camping at one of the above camping sites as some of the best in Ohio. You will be intrigued and fascinated by the ambiance and serenity at these campsites.
FindCampingGear.com is a participant in the Amazon Services LLC Associates Program, an affiliate advertising program designed to provide a means for sites to earn advertising fees by advertising and linking to Amazon.com. We also participate in other affiliate programs which compensate us for referring traffic.