10 Best Camping Sites in Pennsylvania
Dubbed as the Keystone state, popular Pennsylvania is a state situated in the north-east of the U.S. It is actually among the original 13 colonies. It boasts of rich American history, mainly as its home to the famous independence Hall. It is an ideal camping destination due to the vast diversity of sites it has to offer. From forests, farmland, mountains, and sandy beaches, you will be sure to camp at a landscape that you desire.
Other fascinating tourist attractions within Pennsylvania include Hersheypark, Lake Erie, Presque Isle State Park, Longwood Gardens, Sesame Place, Phipps Conservatory and Botanical Gardens, and Philadelphia Zoo.
If you are new in Pennsylvania and wondering about some of the most intriguing and scenic camping sites to explore, then you are in the right place; this piece will enlighten you on some of the best campgrounds in Pennsylvania.
Let's get to it!
1. West Haven RV Park and Camping Site
West Haven RV Park camping site is situated just a few miles from the picturesque Presque Isle State Park in Kentucky in the north-west region. It is conveniently nestled near Erie's waterfront city, the home to the famous Erie Maritime Museum and Waldameer Park and Water. Other popular nearby amusements include Erie Zoo, Splash Lagoon, and the Experience Children's Museum.
With the proximity to the various famous fishing spots, including Elk Creek, Presque Isle, Lake Erie, Walnut Creek, and Trout Run, fishing enthusiasts are assured of a blast. Other exciting activities that campers enjoy at the West Haven RV Park camping sites include paddling in the immense swimming pool, hiking, picnicking, and mountain biking on the various on-site trails in the park.
The park is much peaceful and orderly and certainly has something to keep everybody entertained. There is a kid's play area, fishing pond, full hookups, enforced speed limit, showers, pool, pull.
2. Lake-In-Wood Camping Site
Situated in the south-east region of Pennsylvania in Narvon, the Lake-in-Wood camping site is roughly 60 miles away from Philadelphia's busy city. If you are looking forward to renting an RV for a weekend getaway, you could quickly get one in the area. It is close to famous tourist attractions within Pennsylvania, including Reading Public Museum, Amish Village, and French Creek State Park.
This family-friendly Lake-in-Wood camping site prides itself in offering a vast array of on-site activities that are ideal for people of all ages. Whether you enjoy mini-golf, fishing, paddle boating, mountain biking, or playing sport, you are guaranteed to find various fun ways to spend your weekend or vacation at this popular campground. The staff goes the extra mile to plan exciting events every week, including bingo, chili cook-offs, laser tag, and many more.
During summer, campers at this facility can have fun at the Gnome Café and pool and be intriguing by the paddle boats, playgrounds, ice cream, and campfires at night. Some amenities include full hookups, pool, and hot tub, free Wi-Fi. Pets are also available at the camping site.
3. Woodland Camping Site
Located in central Pennsylvania's picturesque mountains, Woodland's camping site is engulfed by beautiful natural areas, including Black State Park, Moshannon State Forest, Sproul State Forest, and Ouehanna Wild Area. It is one of the best RV destinations in the state. It is conveniently nestled near many famous attractions such as the Arboretum at Penn State, Bryce Jordan Center, Pennsylvania Military Museum, and Palmer Museum of Art.
Whether you enjoy being as active and engaging as possible or relaxing in the ambiance and serenity, Woodland camping site has something in store for every guest, young or old. The steaming hot tub gives you a chance to recharge your batteries or get lost in the excellent book. Additionally, the adventurous campers could enjoy mountain biking on the well-designed trails or enjoy on-site hiking, planned activities, a game room, and a fishing lake.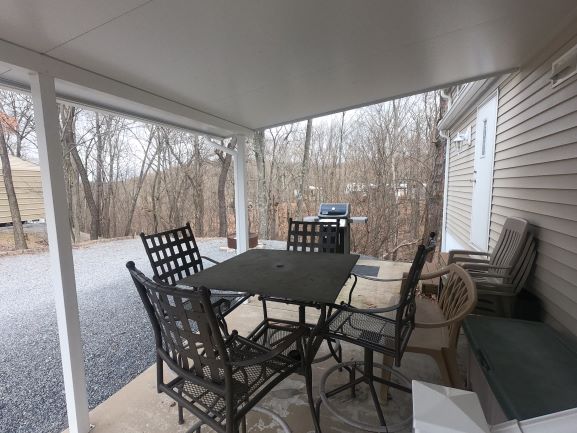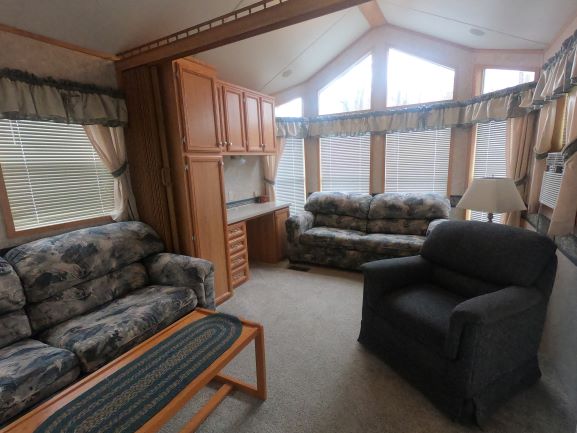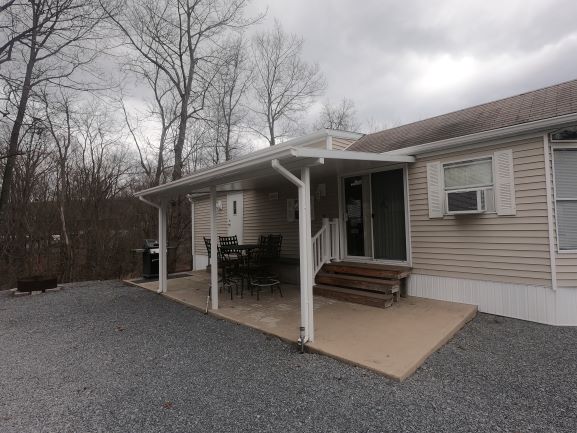 Some of the amenities available at the Woodland camping site include full hookups, clean bathroom and showers, hot tub shower, pool, Wi-Fi connectivity, and pets are allowed in the park. Camping at this site will give you memories that you will remember for a lifetime.
4. Leonard Harrison State Park Campground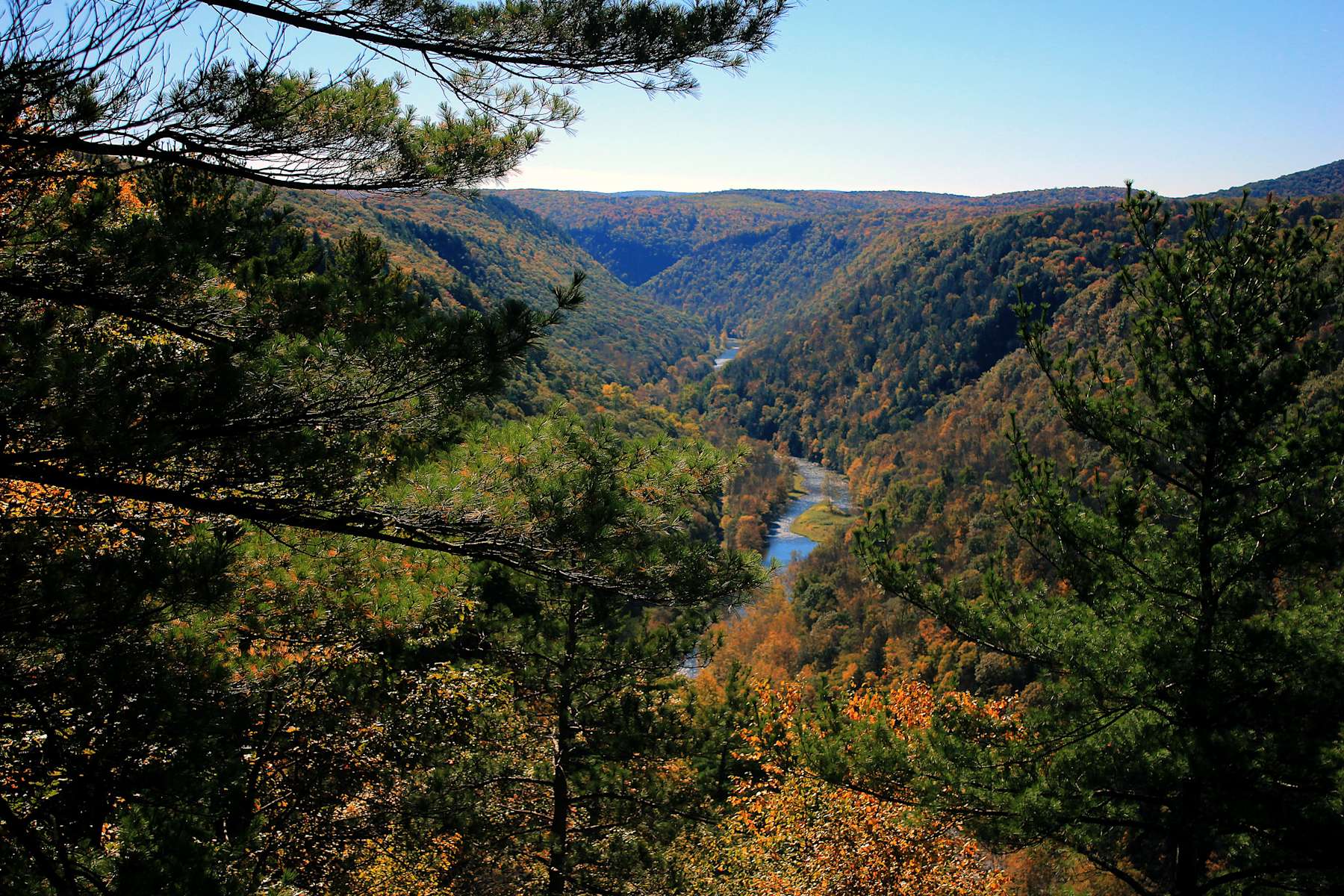 Based on Pine Creek in the northern region of Pennsylvania, Leonard Harrison State Park's camping site is near many natural attractions, including Pine Creek Gorge, Tioga State Forest, Susquehannock State Forest, and Colton Point State Park. Other fascinating destinations within the region include Arcadia Theatre and Animaland Zoological Park.
Camping at Leonard Harrison State Park camping site can be an enjoyable and authentic experience. One will enjoy picnicking, guided walks, hiking, fishing, wildlife sceneries, hunting, and modern amenities, including warm showers, flush toilets, playground, and electric hookups.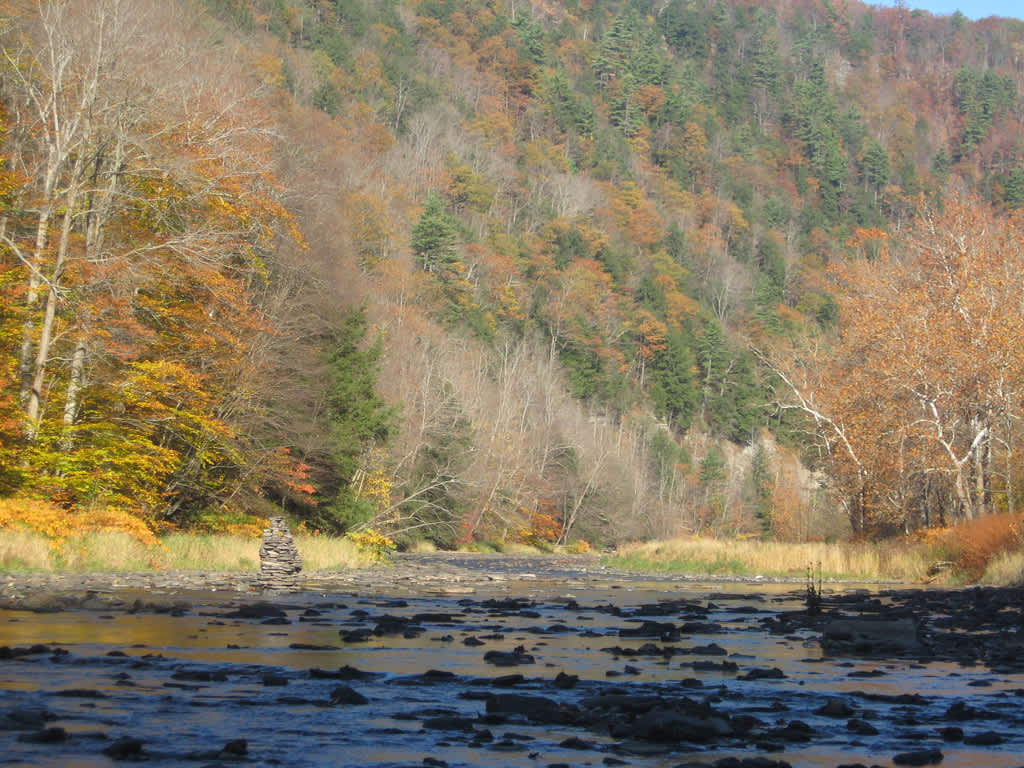 This camping site is exceptional on the east of the Mississippi River due to the breathtaking and fantastic views. This camping site ideal for the whole family and it's a perfect hideout from an engaging and strenuous job schedule. You will get to interact with new friends, interact and share ideas.
5. Sara's Campground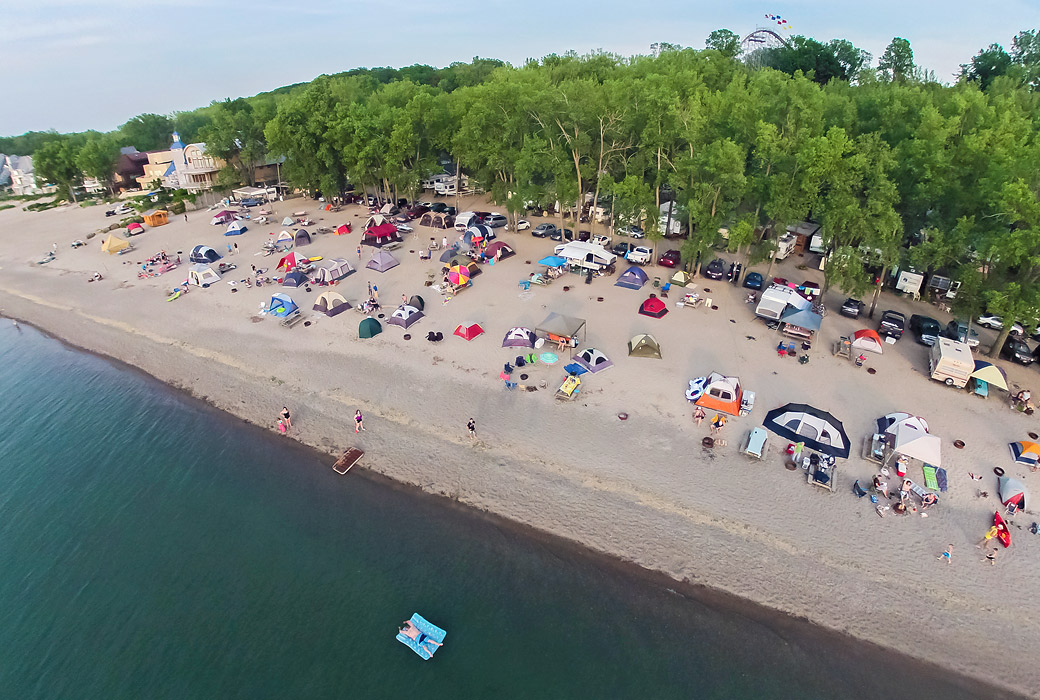 Nestled in Erie's northern-most region, Sara's camping site is the closest to Presque Isle State Park. It is surrounded by must-visit destinations, including Splash Lagoon, Erie Zoo, the Watson-Curtze Mansion, Waldameer Park, and Bicentennial Tower.
If you have desired to camp along the picturesque shore of Lake Erie, Sara's campground is the place to explore. With over RV sites and tent positioned along lakeside beaches of the lake and bayside.

The on-site restaurant ensures that you don't have to hassle taking long walks to get delicious meals. Sara's camping site amenities include laundry, showers, a camp store, and clean restrooms that will make you feel at home.
The sunsets at this popular campground are spectacular. Campers can enjoy hanging out at the beach, which is much therapeutic and relaxing and divert your mind from the busy work schedule.

The wooded bayside area in the camping area has well designated and numbered sites. Most of the sites have cement pads with electric, sewage, water, and TV cable. This is primarily where their trailers, pop-ups, and motor homes stay. There are no reservations. However, a first-come, first-served basis applies. Campfires are allowed on the beach, but they should be contained within a fire ring. It is important to note not all beach sections provide campfires, and they are clearly indicated with no fire label.
6. Hersheypark Camping Resort
Surprisingly, the delicious and famous chocolate brand has an official camping site named after it. Situated in south-east Pennsylvania in Hummelstown, Hersheypark Camping Resort is nestled few miles away from other Hershey-themed destinations, including Hershey Theatre, Hershey Gardens, Hershey Park, and the Hershey Story Museum. Other intriguing tourist attractions nearby include Challenge Family Fun Center and the Indian Echo.
This popular camping site is a favorite to many locals and tourists as it celebrates all things sweet chocolate included. There is something for everyone regardless of age with an indoor game room, multiple playgrounds, three pools, live entertainment, and sporting fields.
The Hersheypark Camping Resort will give a memorable RV camping experience; thus, if you have an RV idly sitting in your garage or driveway, you should consider renting it to friends and family to enjoy over the summer. It is a perfect way to earn some extra cash to fund your next camping trip.
The resort is family-friendly and very clean, giving the campers the ambiance and serenity that they deserve. The bathroom facilities and the pool are all well maintained. The Hershey camping site has a shuttle that operates regularly, especially during peak hours; the driver will also give you much insight into the history of Hershey.
Some of the amenities available include full hookups, hot tub and pool, showers, 30/50 Amp, and pull-through and back-in sites.
7. Pine Cradle Lake Family Camping Site
Located in the north-east region of Pennsylvania within the Endless Mountains, the Pine Cradle Lake Family camping site stretches across 73 acres of land. It has a beautiful 18-acre on-site lake. Although it is a hidden gem, it is easily accessible to the nearby cities of Elmira, Binghamton, Williamsport, and Scranton.
Seeking to escape from the hustle and bustle of your work schedule and engulf yourself with the ambiance and tranquility of nature, then this is the place to explore. You will be intrigued by the modern amenities, including pedal carts, splash pad, heated swimming pool, and recreation hall that will keep you entertained.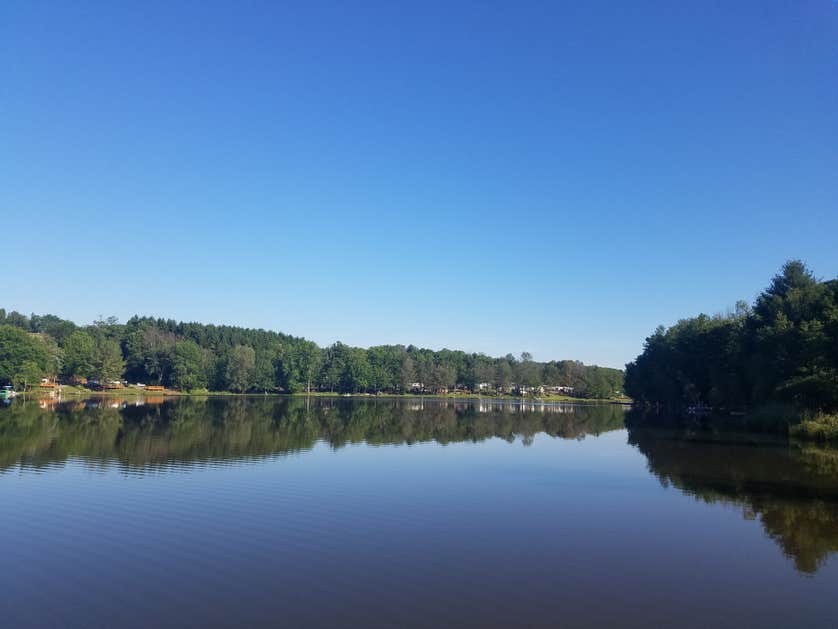 You will enjoy the well-maintained grounds and facilities at this resort, including full hookups, free Wi-Fi, pool, hot tub, showers, and cell reception. Pets are allowed on this camping site. Planned activities are organized for those seeking to create long-lasting memories with their friends and families. After a busy day of fun-filled activities, you could relax and enjoy the campfire at night.
This popular camping site is ideal for a backdrop where you could opt for a family photo. You could also opt to grab your preferred fishing rod and challenge their outstanding stock of immense mouth bass. You could enjoy the sun in the comfortable lounge chair beside the heated swimming pools as you watch your kids in the splash pad, float in kayaks, cruise in the pedal carts, or they patrol on their mountain bikes. They are a vast range of functions to keep everyone occupied.
8. Rose Point Park Campground
Situated in the western region of Pennsylvania, Rose Point Park camping site is nestled in the north of Pittsburgh. Off the Benjamin Franklin Highway, the park is strategically positioned where you can get access to the best dealerships of RV in the state. There is a wide array of recommended attractions nearby, including Alpha Bass, McConnells, Cheeseman Farm, and Eckert Bridge.
Rose Point Park camping site features two playgrounds, an on-site heated swimming pool, hiking trails, a stocked pond, and sporting facilities. You could also enjoy craft classes, disc golf, and bingo, to name a few.
This camping site is beautifully laid and very clean. The staff are fantastic at will be at your service at all times. It is an ideal weekend getaway as you will able to meet new people, socialize and make new friends. It features 208 RV sites, both 30 and 50 Amp, full hookups, and many other amenities.
9. Twin Grove RV Resort and Cottages
This tremendously popular camping resort boasts of a picturesque site in eastern Pennsylvania in Swatara State Park. It is situated few miles from Harrisburg, the state capital of Pennsylvania. The region is bursting with thrilling attractions, including the conservation area of Boyd Big Tree, Adventure Park, National Civic War Museum, Hersheypark, and Adventure Park.
The camping site is situated near the 3500-acre State Park in Swatara. While camping at this facility, you will also enjoy mountain biking, hiking, hunting, and fishing. Some state-of-the-art on-site amenities include two pools, kid's rides, an ice cream shop, and many sporting facilities.
The picturesque sceneries at this camping sort will divert your mind from the stress and frustrations of life. The campgrounds are well maintained, including the RVs and the amenities. Kids will be fascinated by water-spraying stations, pools, and slides. You could come along with your pets as they are allowed on this camping site.
Some of the amenities offered include cell reception, Wi-Fi, 30/50 Amp, pool showers, and full hookups.
10. Battlefield/Gettysburg KOA Holiday
This private KOA camping site is positioned in Southern Pennsylvania and a few minutes drive from Gettysburg. Although it may feel like a secluded oasis, it is closely located to unique destinations, including Little Round Top, Devils Den, Gettysburg National Military Park, and the Eisenhower National Historic Site.
Like most KOAs, this camping site offers a family-friendly, safe, fascinating, and adventurous destination for your RV vacation. Those seeking to explore this camping site will adore the nature trail, heated pool, life-size games, gem mine, weekend pancake breakfasts, mini-golf, and so much on. A pet playground is also available.
Some of the amenities at this camping site include 125 full hookups, heated pool showers, cell reception, pull-through/back-in sites, and many more.
Conclusion
There you got it all; some of the best camping sites and RV resorts that you will enjoy exploring in Pennsylvania. You will get some of the intriguing destinations on the list, from Erie's spectacular lakeside city on the northern side of the state to Philadelphia's big and busy city in the distant south-east. The information covered in this piece is only the tip of the iceberg. The state of Philadelphia is full of adventurous locations waiting to be explored. Choose any of the above-mentioned camping sites and begin your expedition.
FindCampingGear.com is a participant in the Amazon Services LLC Associates Program, an affiliate advertising program designed to provide a means for sites to earn advertising fees by advertising and linking to Amazon.com. We also participate in other affiliate programs which compensate us for referring traffic.