12 Best Campsites in New Hampshire
New Hampshire is famous for its White Mountains, which show some of the highest elevations in northeast of the U.S. The State is covered by huge protected chunks of land, which has helped keep them largely natural.
There are different terrains across the state and scenic features to explore, with campgrounds across all these areas, where tents and RV's are encouraged. Different campgrounds offer everything from primitive campsites with no power or water to urban, more developed campsites, which will come with such things as Wi-Fi to beds and kitchens.
If you are looking to go for a camping trip in New Hampshire, take a look at the compiled list of some of the best places you can go camping.
Let's check it out!
1. Lake Francis State Park
If you have been deep inside the Great North Woods in the Northern tip of New Hampshire, you might have come across the Lake Francis State Park. It is an amazing park with campgrounds where visitors can enjoy some fishing, boating, and kayaking on the stunning lake as you camp around the shores or inside the woods.
There are about 45 campsites, with around nine designated for RV's and another 9 for ATV camping.
Come to the state park and enjoy boating and fishing on the 200-acre lake, which will provide you with various fish species. There is also a string of lakes that will lead you straight t the Canadian border, to show the huge size of water available for your exploration. Also, water activities are not limited to just boating and kayaking, and depending on what you have, the options are immense.
There are at least 100 miles of trails available for exploration for ATVs, hikers, and bikers. Enjoy the scenery as you ride through the different terrains, and take care not to hurt any animals that may cross your path.
2. Lafayette Place Campground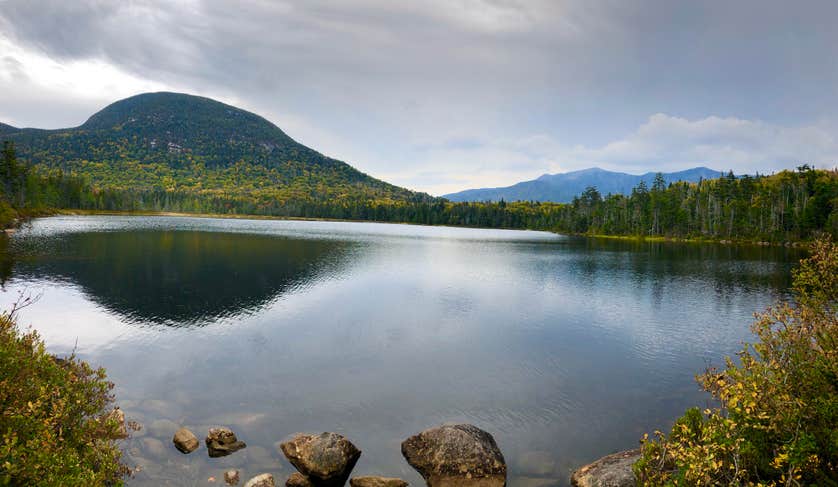 Lafayette Place Campground is located between two mountain passes carved by a glacier and is part of the Franconia Notch State Park.
Some of the various features to enjoy at the park include the stretch of road between the Kinsman and Franconia peaks, the Cannon Mountain Aerial Tramway, the Flume Ranges, the Echo Lake swimming beach, a lake, trails animal and a whole lot more.
Come here and enjoy the picturesque landscapes, relaxing picnics and campfires, hiking, biking, and water sports. Fishing enthusiasts can come here for some fly fishing, boating, or sailing, as the kids take their time at the playgrounds. You may come across some animals along three trails, while bird lovers can come to see some falcons or hawks.
The campsite offers visitors some information on the environment and the natural features and environment. There are around 90 camping spots for both tents and RV's with fireplaces and modern amenities you would expect.
3. Sugarloaf Campgrounds
The Sugarloaf Campgrounds are two or twin campgrounds located deep inside White Mountain, inside a thick hardwood area along the Zealand River banks. Sugarloaf 1 and Sugarloaf II are both run and managed by the U.S Forest Service.
The camping spots are large and well-spaced enough to provide you with the quiet you need. You will get fire rings and picnic areas as part of it. However, the campsites are do not come with showers, plus water can only be found on the Sugarloaf I campground.
The campsite is especially amazing for hiking and biking enthusiasts based on the campsite's remoteness and the number of trails to explore. You can always go up the mountain and enjoy the views from a vantage point, or follow the 2.8-mile hike trail along with the River Zealand Falls Hut.
4. White Lake State Park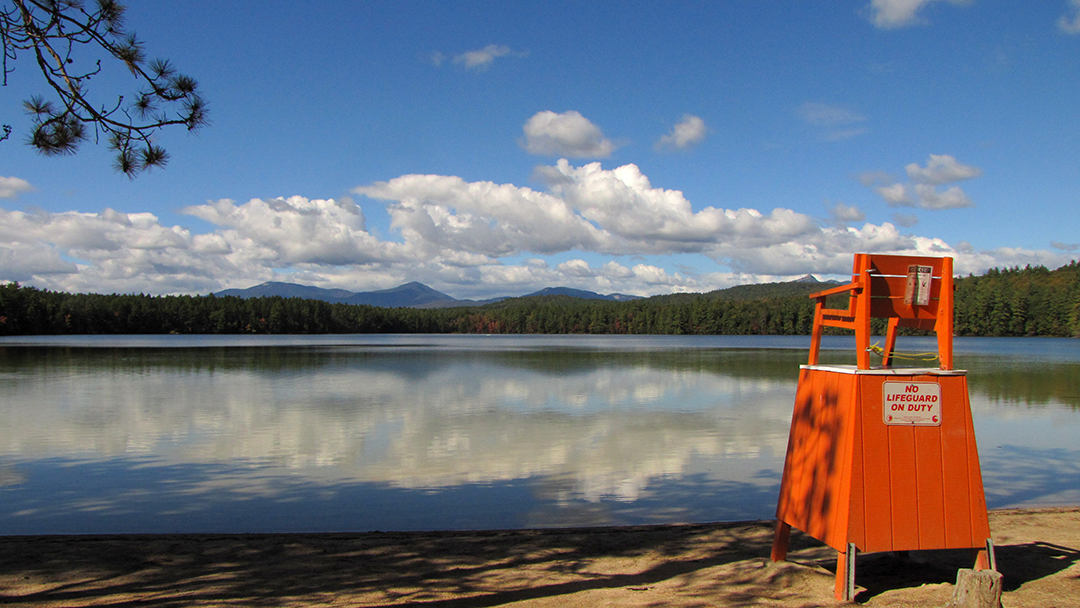 The White Lake State Park has one of the biggest campgrounds in New Hampshire and is one of the only places with a lake plus a swimming beach on the White Mountains. The place comes with around 200 camping spots under the thick pine trees just next o the shores of the lake, which provide beautiful places you, can pitch your tent.
The lake was formed due to the ice age, where some ice was trapped beneath glacial debris. As the ice age came to an end, the ice melted and left a depression that filled up to become a lake. This was the perfect place to burst with life, as you will find a variety of animal species all across the park.
You can also go hiking or biking on one of the trails at the park. You also have the choice of spending your days fishing on the lake and eating by the campfire at night, as you bask the days away on the swimming beaches.
5. Bear Brook State Park
Bear Brooke State Park is one of the more modern parks in New Hampshire, located close to Manchester and Concord's cities. The park is the largest state park, with huge wooded surroundings, perfect for campers wishing to go outdoor and still have some modern type of vacation activity, including swimming, fishing, hiking, and more.
The park has a pond, where campers can hire a canoe or a boat and go for some boating or try a fishing hand.
Campers will be happy to find that the park has a store, showers, electricity and plenty of water. RV enthusiasts will find enough dumping stations at the park.
It sits on a 10,000-hectare piece of land, which comes with forests, bogs, hilltops, and wildlife. There are various trails available for hikers to enjoy and bikers to ride, with horseback riding a favorite among campers.
At Bear Brooke, you can also try a hand at archery. There are two archery ranges; however, you have to bring your equipment to enjoy.
You will also find a museum at the park and an antique Snowmobile Museum.
6. Blackberry Crossing and Jigger Johnson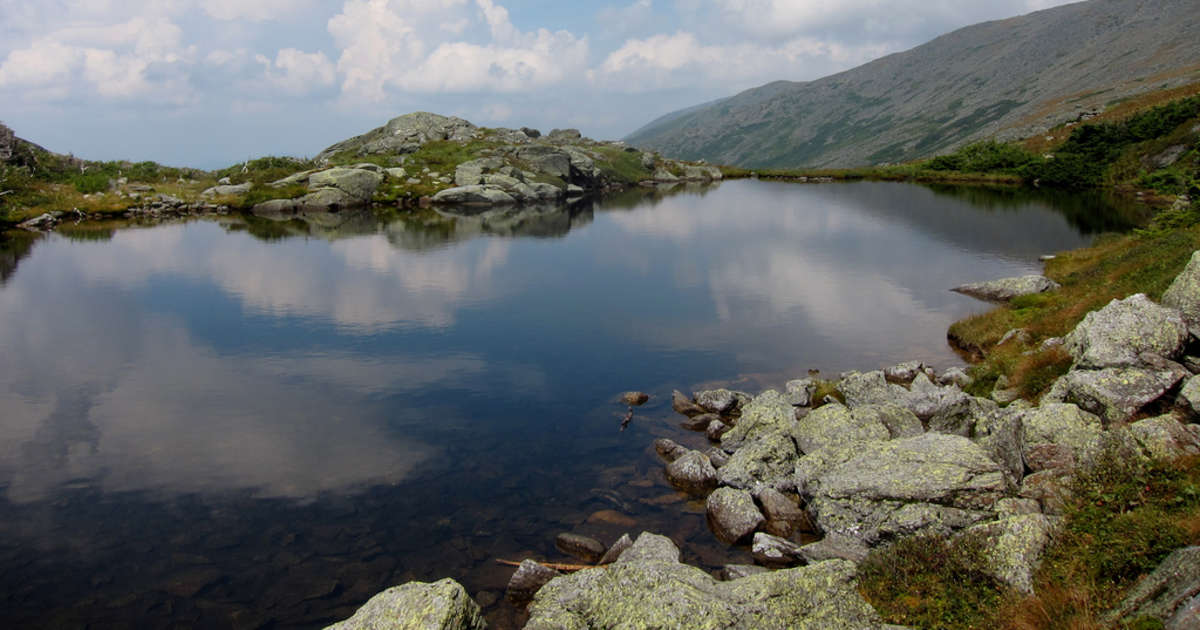 The Jigger Johnson and Blackberry are two campgrounds located on the Kancamagus Scenic Byway, around six miles apart. They are all located on the White Mountains, inside a dense forest cover along the Swift River banks. The place is beautiful with a well-maintained state, providing some peaceful and exhilarating experience for people wanting to connect with nature.
There are beautiful trails, and you can climb the Chocorua Mountain or take another and head for the Sabbaday Falls. Trails are connecting the Jigger Johnson to the Russell – Colbath Historic Site, plus you can cross over to the Blackberry Crossing from Jigger Johnson through the Albany Covered Bridge.
Blackberry Crossing was once a Civilian Conservation Corps (CCC) camp during the thirties and currently will still allow solo ventures into the area for some exploration. Compared to Jigger Johnson, Blackberry Crossing is far smaller, with Jigger Johnson holding at least 70 camping spots suitable for RV's and campers.
The campsite is a first-come, first-serve kind of place, with all the amenities you might need for a camping trip out here.
7. Umbagog Lake Campground
One of the best places to visit while in New Hampshire is the Umbagog Lake Campground. Not only is it a favorite among water and outdoor lovers, but it also comes with a lot more, including proximity to the Umbagog National Wildlife Refuge, which the lake crosses into.
There are around twenty-seven camping spots across the campgrounds, which accommodate both RV's and campers. There are also around thirty camping spots that can only be accessed by boat, perfect for the lake shores' perfect solitude.
There are plenty of activities to enjoy while at the campgrounds. Boat and fishing enthusiasts will have a great time on the lake, with both boats and kayaks available for hire. You can try and catch a fish or two from the variety of species available.
There is a swimming beach available, and birdwatchers can also come camping here and try spotting some eagles. As you hike or bike on the trails, you can find some small mammals, including deer, moose, and other small mammals.
8. Huttopia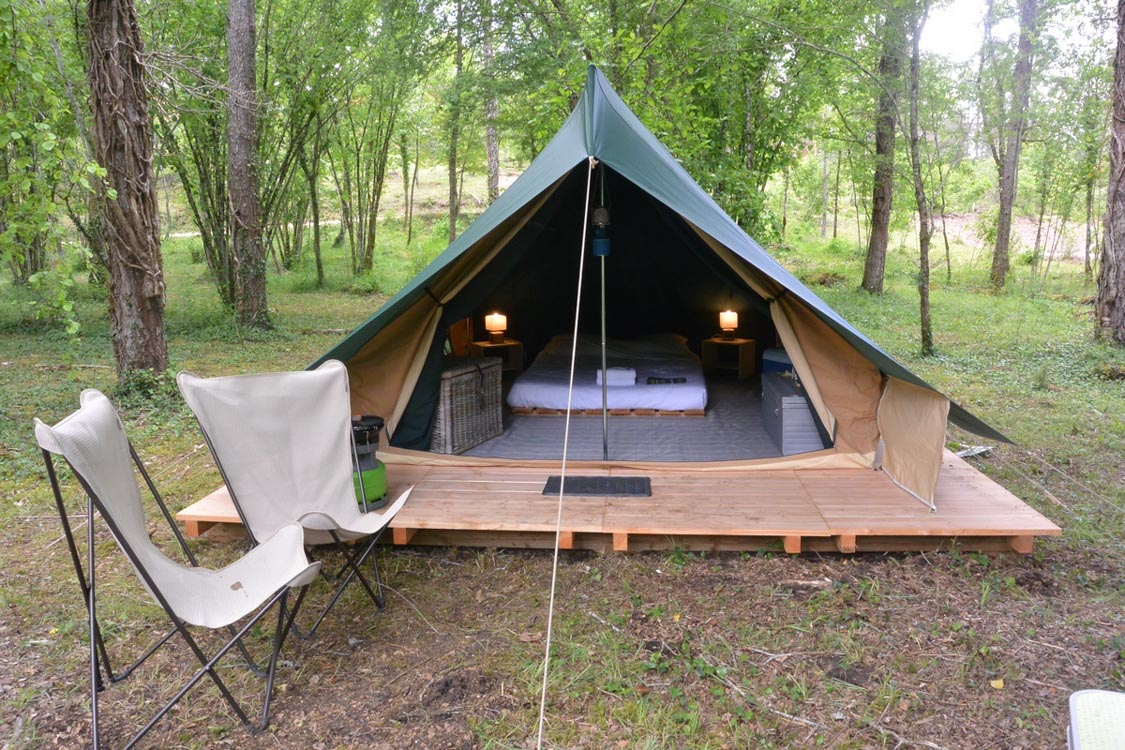 Have you ever heard of glamping? It is a different kind of camping experience where a bit of glamour is added. it is a new kind of affluent camping where you do not need RV's or camping gear as all will be provided. There are tents already set up and ready for occupations with all the luxuries you would ever think of. There are wooden floors, beds, refrigerators, indoor bathrooms, a kitchen with sinks and utensils, plus salad spinners.
The Huttopia is one of a kind; you will see your family enjoy a different spin on what camping means.
There are also Canadienne tents which are slightly less glamorous. In contrast, Bonaventure's types of tents come without a food preparation area and a dining area but will have a fridge, beds, electricity, and ample water.
Huttopia will also provide visitors with a huge swimming pool, terraces, and café like table, with French crepes' available on order, plus pizza and ice cream.
There are also trails to be explored and a variety of fun activities for the whole family. Come over and enjoy a new meaning to camping.
9. Pawtuckaway State Park

The park is located in Southern New Hampshire, a beautiful piece of land full of lakes and beautiful landscapes to explore and pitch a tent. Bring the whole family and enjoy some camping all year round, plus it will also accommodate both RV enthusiasts and tent campers.
The park also comes with around 190 camping spots, all with a perfect view of the lake and close to the swimming beaches, meaning you can wake up and take a dip rather than wash your face. There are canoes and kayaks for hire, with a boat launch available. You can go boating and float on the lake as you try your hand at fishing.
Above RV and campsites, the park also offers visitors cabins if you don't prefer a tent. There are around five cabins available for hire, each capable of accommodating six people. There are also showers, restrooms, electricity, picnic areas, and campfire rings.
There are also several hiking trails for visitors to enjoy, going from the park to the mountain tops where you will find a beaver marsh and a fire tower.
10. Greenfield State Park
In the Southwestern side of New Hampshire is a little slice of heaven located in a 400-acre piece of land, which also comes with a lake. The place is perfect for camping out of the sheer number of interesting and fun activities for the whole family. There is everything for everyone, and tagging the kids along will be one of the best choices you ever made.
There are around 250 campsites all through with a variety of environments to your liking. You can select to enjoy the densely forested areas, right on the lake's shoreline or the clearer parts of the campgrounds. Both campers and RV's are allowed in, but RV's will not find any hookups.
You can either reserve a campsite or book one on site.
Some of the activities you can enjoy at the campgrounds include water sports, fishing, and boating. You can also choose to rest on the shoreline and soak in the sun. The place is also amazing for fishing; being undeveloped means, there is still plenty of fish in the lake.
There are woodland trails available for exploration, with routes going all the way up the mountain.
11. Lost River Valley Campgrounds
Lost River Valley Campground is a privately owned place at the center of the White Mountains and in proximity to some beautiful scenic attractions, including the the Kancamagus Scenic Byway, Lost River Gorge, and the variety of sites on the Franconia Notch.
There are about 120 campsites in the campgrounds, which are well spaced within the forest area. The campground will accommodate both campers and RVs, full of hookups, pull-throughs, and all other amenities you may need. There is plenty of water, electricity and enough restrooms.
There is a camp store in the campgrounds where you can restock supplies. There is a three-day minimum stay requirement at the campgrounds, while reservations are not accepted during Labor Day or late June.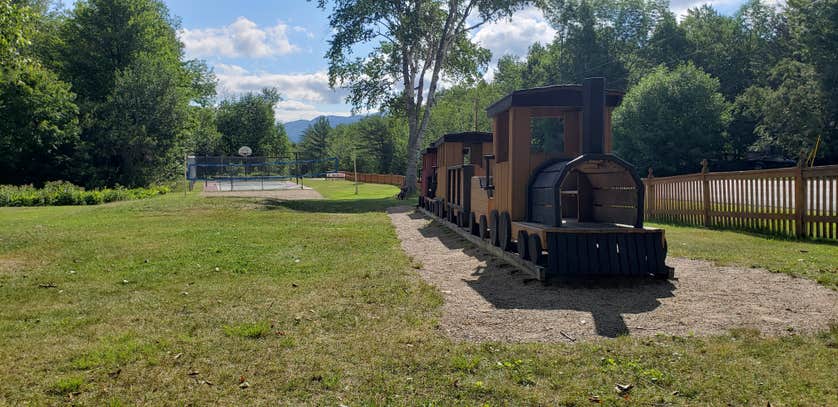 For the children, the campgrounds come with several activities to fill their days. They can enjoy some time at the sandy beach, kayaks, paddleboats, games rooms, basketball, playgrounds, and even a wooden train.
12. Hampton Beach State Park
Hampton Beach State Par has the only ocean-front camping facilities across the State. The campground comes with around 28 sites to pitch a tent and is open from Memorial Day weekend to Columbus Weekend.
The place comes with miles of sandy beaches and all the water sports you can imagine. Apart from this, you can choose to explore the area with several trails available for exploration.
Conclusion
With all the lockdown we have experienced, a camping trip may be the perfect place to reconnect with nature. Take a trip to one of the campsites that best fits your liking and have a blast, whether you come alone or choose to bring some company. There are plenty of activities available for everyone.
FindCampingGear.com is a participant in the Amazon Services LLC Associates Program, an affiliate advertising program designed to provide a means for sites to earn advertising fees by advertising and linking to Amazon.com. We also participate in other affiliate programs which compensate us for referring traffic.