Does REI Rent Camping Gear?
With winter storms in the rearview, it's time to start preparing to get out of the house and have some summer adventures. But one of the most important things to consider, after choosing your dates and park of choice, is: what do I need?
Depending on the size of your group, even entry-level gear can quickly add up to several hundred or even thousands of dollars for good quality gear. If draining your bank account for a new set of camping gear isn't your idea of a good way to start your vacation, maybe consider affordable rental options near you:
REI Rentals
REI locations around the country offer a range of affordable rental gear for a variety of outdoors activities. The gear is available to rent out as part of a kit that comes with all the essential supplies for day hikes, backpacking or car camping. But all that gear is also available individually for those who have some but not all of what they need (did you remember your bear canister?)
All packs and gear require a $100 or $200 dollar deposit, but you can skip this part altogether by becoming an REI member. REI Members don't pay a deposit and have access to the same gear for a lower price. Need a 6-person camping tent for your group? That will only cost you $50 instead of $75.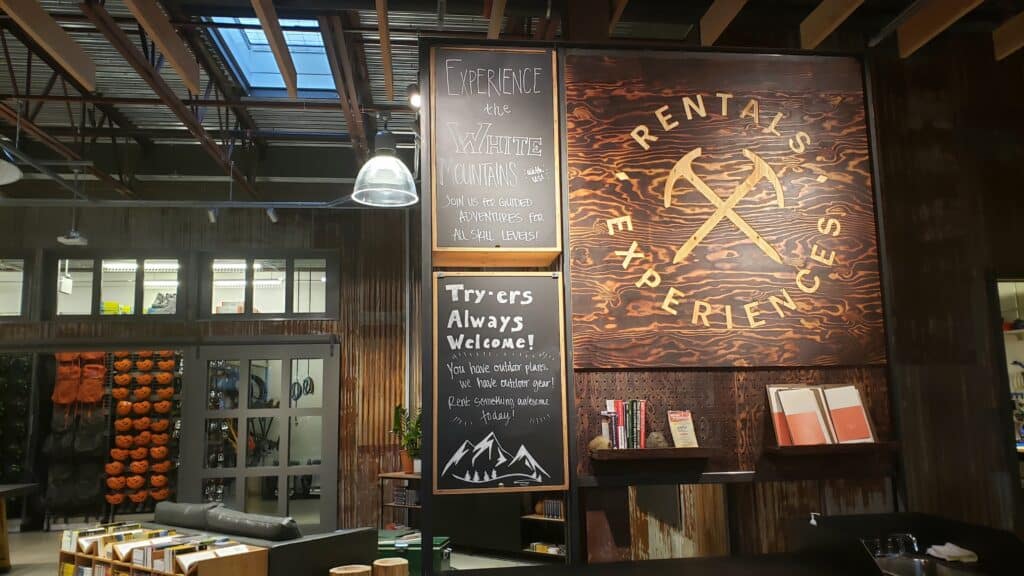 Whether you're an experienced thru-hiker or going backpacking for the first time, the added benefit of renting from REI is the people at REI who can answer your questions and help you figure out what gear is right for you. This can be a huge help if this is your first time out and you're not familiar with the gear. Or just want a second opinion on what gear would be right for you.
What do I need?
This entirely depends on you, your experience level and your plans. If you're venturing outside the suburbs for the first time, consider getting a kit that includes all the basics, like a backpack, sleeping bag, stove, etc. But exactly what you should get also depends on where you're going.
What's the climate like? And what activities will you be doing? If you're going somewhere colder, you might need:
Snow boots
Skis and ski poles (if skiing)
If you're planning a trip that involves large bodies of water, maybe you need:
A kayak
A Canoe
Paddles
PFDs (anti-drowning devices)
Other questions to consider: what wildlife live there? Whose home are you walking into? (Did you remember your bear canister?? As someone who lived near bears, this is important).
But let's just say you want to go for a backpacking or camping trip and just aren't sure what you need. Here's a brief overview of the kits to help you get started:
The Basic Backpacking Kit
This kit comes with the essentials for a backpacking trip. It includes gear for 2 people (because you definitely shouldn't be going alone, especially if it's your first time). It includes:
1 2-Person Backpacking Tent
2 Backpacks
2 Sleeping Bags
2 Backpacking Sleeping Pads
2 Backpacking Chairs
2 Pair of Trekking Poles
2 Rechargeable Headlamps
1 MSR Pocket Rocket Stove Kit (fuel sold separately)
All that's left for you to do is pack up your food, clothes and other essentials and you're good to go.
The Lightweight Backpacking Kit
Basically the other backpacking kit, but lighter! Less weight on you so you can go farther. Major difference: carbon trekking poles.
The Car Camping Kit
For camping, but with a car. Comes with more things since you won't have to carry all of it on your back. For the more casual camper who enjoys eating at a table. Also comes with a cook set, unlike the other kits, if you don't want to bring your own cookware with you into the woods.
1 4-Person Tent
2 Sleeping Bags
2 Sleeping Pads
1 Camp Table
2 Camp Chairs
2 Rechargeable Headlamps
1 Electric Lantern
1 2-Burner Camp Stove (fuel sold separately)
1 Camp Cook Set (pots and pans only)
1 Cooler
Unfortunately, REI does not deliver their rental gear, so you have to live near an REI location and check the individual store's availability.
Don't live near an REI? The location near you doesn't have exactly what you're looking for? Still need your gear because so help you god you WILL go on your vacation this year? I got you. Here are some more outdoor rental options:
Outdoors Geek
If getting yourself to a physical store and talking to actual people is too much for you to handle right now (or simply not an option for you), Outdoors Geek might be the option for you. All their gear is available to rent online, and like REI, they offer kits or individual items. Outdoors Geek
also allows you to rent to buy, giving you the option to try out gear before deciding if it's right for you and put your rental money toward the cost of the equipment. Overall an excellent option for people who need more variety than the stores in their area offer, are considering owning their own gear but don't want to commit to something they haven't used, and people who enjoy receiving packages in the mail.
Xscape Pod
Another online delivery option for people who like receiving packages in the mail and don't want to worry about it showing up on time. All you have to do is tell them how many people are going, what your specific needs are and the dates for your trip. They take care of the rest. They ship out your pods so that they arrive at least one day before your trip, with the option to pick up at a local FedEx or have it delivered directly to you wherever you may be (hotel? Airbnb? Not a problem). Their kits also come with a field guide, tutorials and a checklist to help you get ready. If you're looking for ways to buy your own gear at a discount, they also have an option to buy their gently used gear.
CampCrate
Many of the good things from Outdoors Geek and Xscape Pod also exist at CampCrate. They provide kits and individual item rentals for backpacking or camping, as well as a place to buy gear. But the feature that sets them apart, especially for people who aren't experienced and want the rest of the adventure planned out for them as well, are their Adventure Vacations option. One of their most popular options is a 4 day hike through Yosemite. The package comes with all the gear in the kits from the other sites, including a sleeping bag, sleeping pad, tent, stove, headlight and water filter. In addition, they also provide 4 backpacking meals, a backcountry wilderness permit, change for bear canisters (I told you they're important), a detailed itinerary of your trip, free shipping for all your equipment, and camping site fees. This option is perfect for someone who wants an incredible experience, but doesn't want to worry about the planning particulars after renting the gear.
Universities!
Are you a college student? Or friends with college students? Or did you conveniently keep your college ID and email for situations such as this? Your own university might have some or all of what you need. Colleges are full of clubs and extracurricular groups, and at least at mine, there was an outdoors club that would rent out gear and kits to students for low prices. If you still have access to your university, see if they can help you out with some low-cost rental options.
Final Thoughts
When it comes to renting outdoors equipment for your camping, backpacking, kayaking or mountaineering trip, there are several things to keep in mind:
– REI has locations all over the country and they do rent camping equipment! Whether you're looking for kits or individual items, REI rental gear has a wide variety of gear available to rent at low prices (even lower with a membership). You don't have to wait for shipping or delivery, you can ask store employees questions about what gear is best for you, and you don't have to pay for shipping. All in all, REI camping rentals is a great option for affordable outdoors gear.
– If there isn't an REI near you, or the mad rush for summer vacation equipment wiped out the gear you needed, there are several online rental options that can fill in the gaps or even give you a little extra. Some rent to buy, some offer entire vacation packages, all are worth it if they help make your trip happen.
– College age and (presumably) tight on cash? Check out your university to see if they have an outdoors club that can rent you some gear. You might even meet some chill people who like getting outdoors as much as you do!
I hope I've answered your question thoroughly: Does REI Rent Camping Gear?
FindCampingGear.com is a participant in the Amazon Services LLC Associates Program, an affiliate advertising program designed to provide a means for sites to earn advertising fees by advertising and linking to Amazon.com. We also participate in other affiliate programs which compensate us for referring traffic.
FindCampingGear.com is a participant in the Amazon Services LLC Associates Program, an affiliate advertising program designed to provide a means for sites to earn advertising fees by advertising and linking to Amazon.com. We also participate in other affiliate programs which compensate us for referring traffic.