What is the Best Rooftop Tent?
Investing in a rooftop tent is no small feat. You have to think of cost, space, durability, and overall functionality and how it applies to your exact circumstances and needs. Therefore, what is the best overall rooftop tent out there?
One of the best rooftop tents is the Tepui Kukenam. This tent was made for durability and is able to withstand all four seasons without waver. Beyond durability, it is equipped with amenities that make this rooftop tent one that campers love, such as a memory foam mattress and spacious interior.
With rooftops making a large footprint in the camping world, there are hundreds of options out there to suit just about anyone's needs, no matter how big or small. This can make finding the best rooftop tent rather complex, as each offers something that the other does not. However, if you want to find the best rooftop tent out there, read below to see why it is the best as well as other options that will make your camping experience one that will not be forgotten.
When finding a rooftop tent that will offer safety, a good amount of space, plenty of usable amenities, comfortability, and affordability, it can be difficult to decipher what you need versus what you do not. However, after ranking at the top of lists for some time, the best rooftop tent is here and it will work for just about any rooftop camper out there. If the best is what you seek, take a look below to find which rooftop tent comes on top.
The best overall rooftop tent is the Tepui Kukenam 3. This model is one that is made to withstand the cold, heat, rain, and snow with ease. Even more than this, the Tepui Kukenam is one that is packed with all of the features to make campers feel more at home and as comfortable as possible.
The Tepui Kukenam 3 is produced by Thule, which already has an incredibly reliable name in the rooftop tent world. Knowing this, it only gives this tent model extra points when it comes to reliability, as it comes from a reputable brand. This rooftop tent is made to carry the Tepui name strongly as its manufacturing is second to none. Through its high-quality covers that are designed to withstand even the heaviest rains, water will easily stay outside.
The 600-denier cover and 420-denier rain flys are also able to withstand strong winds and snow as well. However, the material is also one that does not retain loads of heat, making it work even when in the throngs of summer. With this versatility, users are able to take this tent into any terrain they please. This affords them the ability to go where they want without ever having to change their main equipment.
This tent also falls on the light end of rooftop tents, coming in at 131 pounds. You may be wondering why this is relevant, but if you have a vehicle that is only able to support a small amount of static weight (the weight it can carry when moving) then you have to be conscious of what you put on top of it. If you have a car roof that was not designed to carry loads over 200 pounds, the Tepui Kukenam 3 may be great for you.
Even more, this light weight is something to consider when mounting and dismounting your rooftop tent. If the vehicle you use is one that you also use in your day-to-day life, you will have to take off the tent in order to keep the tent from getting unwanted wear and to allow your vehicle a break in between uses. This will require you to dismount the tent and a lighter tent is going to make this process much easier and much more bearable.
This tent is one that also gives enough space to fit more than one or two guests, but with its sleeping footprint being 96 x 56 inches, you can fit up to three individuals within its walls. Therefore, if you want to squeeze three into this space, you can do so with just enough sleeping room to be comfortable. However, if it is only one of two of you camping, you will have more than enough room to stretch out and make yourself (or yourselves) at home.
The interior of this tent is just as impressive as its exterior though, which helps to give owners not only a reliable piece of equipment, but one that they don't mind spending time in. This tent comes with a high-density memory foam mattress as well as four, large internal pockets that allow you to store any gear, clothes, or camping accessories that you may need while inside. This gives you the ability to be comfortable for longer without having to leave the tent.
One last note on this Tepui Kukenam 3 tent is the price. Coming in at right under $1,900, this tent is by no means the least expensive on the market. Just the same though, it is certainly not the most expensive either. With this tent, you are going to pay a bit more to get a quality tent that will withstand weather and time, plenty of room for comfort, and amenities within that will make you want to stay up there just a little bit longer before beginning your day.
5 Other Great Rooftop Tent Options
Although the Tepui Kukenam 3 rooftop tent falls at the very top of the list for best rooftop tents, there are still a few others that come in close behind. If you need a tent with a bit more space or a few other added amenities, take a look below to see if one of the options suits your needs a bit more.
If you are looking for a tent that is designed for warmer climates but has a bit more space, the Series III Simpson Rooftop tent may be the one for you. This tent allows for great airflow and ventilation and can pack up in a matter of minutes by only one person if need be. It also includes an annex that can be attached to the tent to allow for easy changes if you would rather stand and change instead of attempting it within the cabin.
If you know you will be spending the majority of your time in a place that offers unrelenting heat and want a more luxurious stay, the James Baroud Explorer is second to none. The ventilation in this tent allows for complete airflow, offering owners the closest thing to sleeping outdoors on hot evenings. Even better, within the roof of this tent, there is a solar-powered fan, leaving you cool throughout the night even if there is a break in airflow.
For those that are concerned about more headspace than they are the number of walls, the Roofnest Sparrow Eye offers the largest amount of headspace compared to any other three-sided rooftop tent. The massive opening in the front as well as on the two other sides allows for plenty of ventilation while also giving you the space to stretch your arms. Even better, this tent pops up within seconds and only has one support to keep it propped.
For this three-person tent, the Yakima Skyrise is able to hold a good amount of people without hurting your wallet too badly. Another great feature of this tent is that it is easy to mount on a roof rack, as it goes on and off without having to use any tools. It is designed for three seasons due to the light material that it is made of, but this also allows users plenty of ventilation while also giving them enough insulation to make it through fall.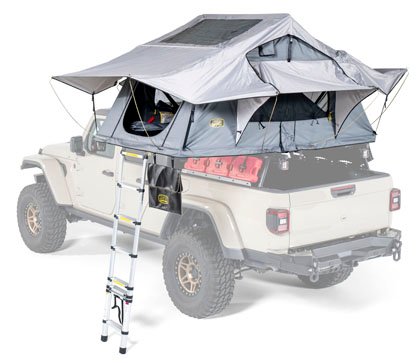 If you are needing more room within your rooftop tent but don't necessarily want to pay the cost that most large tents entail, the Smittybilt Gen 2 Overlander Tent XL is the one for you. This tent can sleep up to four campers and falls right under $1,600, making it plenty big and widely affordable for large groups or families. The catch here is that this tent requires a little more assembly to set up, so be sure to weigh time versus cost before purchasing.
FindCampingGear.com is a participant in the Amazon Services LLC Associates Program, an affiliate advertising program designed to provide a means for sites to earn advertising fees by advertising and linking to Amazon.com. We also participate in other affiliate programs which compensate us for referring traffic.