What is the Cheapest Rooftop Tent? 
Rooftop tents have made a booming presence in the camping world within the last decade, as this type of camping affords users the ability to go where other campers or ground tents couldn't. However, if you want to save a few bucks, what is the cheapest rooftop tent?
The cheapest rooftop tent is the Body Armor SkyRidge Pike, coming in at $803.23. This tent offers comfortable traveling for one or two campers with the ease of folding into a compact system that does not drag when at high speeds, while also offering easy maintenance and comfort.
Rooftop tents allow you to go wherever your vehicle can take you without having to worry about finding a spot that your RV can fit, grabbing an area safe enough for you to pitch a tent, and you can see views that ground camping simply cannot provide all from the roof of your car. However, rooftop tents can get incredibly pricey, making it difficult for those trying to stay within a budget. If you are trying to save your wallet, take a look below to find the cheapest rooftop tent.
What is the Cheapest Rooftop Tent?
When it comes to rooftop tents, there are tents that have USB ports, reading lights, storage spaces, and room to fit up to four people comfortably with plenty of room to sleep and enjoy the view. However, these luxury tents often come with steep prices which is not always justified when compared to less expensive options. If you are looking for the cheapest rooftop tent, take a look below to find out the cheapest rooftop tent out there.
The cheapest rooftop tent, at $803.23, currently on the market is the Body Armor SkyRidge Pike. This tent is a two-person tent that has been manufactured to be waterproof, offers a good amount of natural airflow, has exterior awnings to help wick moisture and rain, and folds into a compact tent.
This is a softshell tent, but even with its soft exterior, it is able to fold into a compact item to be transported easily with very little resistance when at high speeds. This tent is also built to be corrosion resistant, which is a great feature for those who plan to get heavy use out of the tent. When exposed to large amounts of wind, rain, and sun, rooftop tents can easily begin to show their use, making this feature one that greatly impacts the longevity of the product.
When it comes to space within this tent, as previously mentioned, it can comfortably sleep up to two people, and this is due to the 2.4" high density mattress that comes with the tent. This is just enough padding to give you a place to sleep in peace, whether you use your sleeping back on top of it or not. However, if you are one that likes to sleep without a sleeping bag, you may need to wash your mattress more often than others, making the removable/washable cover very convenient.
If you are someone who doesn't plan to take every trip with another adventurer or you are more inclined to solo adventures, you may be wondering whether or not this tent is accessible for those on their own. Luckily, the packing and take-down process are simple and require only a few steps before the tent is secured, making this a rooftop tent that requires very little effort, even from those who are completely on their own.
Other Cheap Rooftop Tent Options
If you are looking for a little bit more than the Body Armor SkyRidge Pike offers, you may be wondering if there are still inexpensive options out there that will give a little bit more, while also keeping your budget in mind. Cheap rooftop tents are out there and even with their low price, can give you exactly what you need at a fraction of the average cost. If you are looking for other cheap rooftop tent options, take a look below to find something that best fits your needs.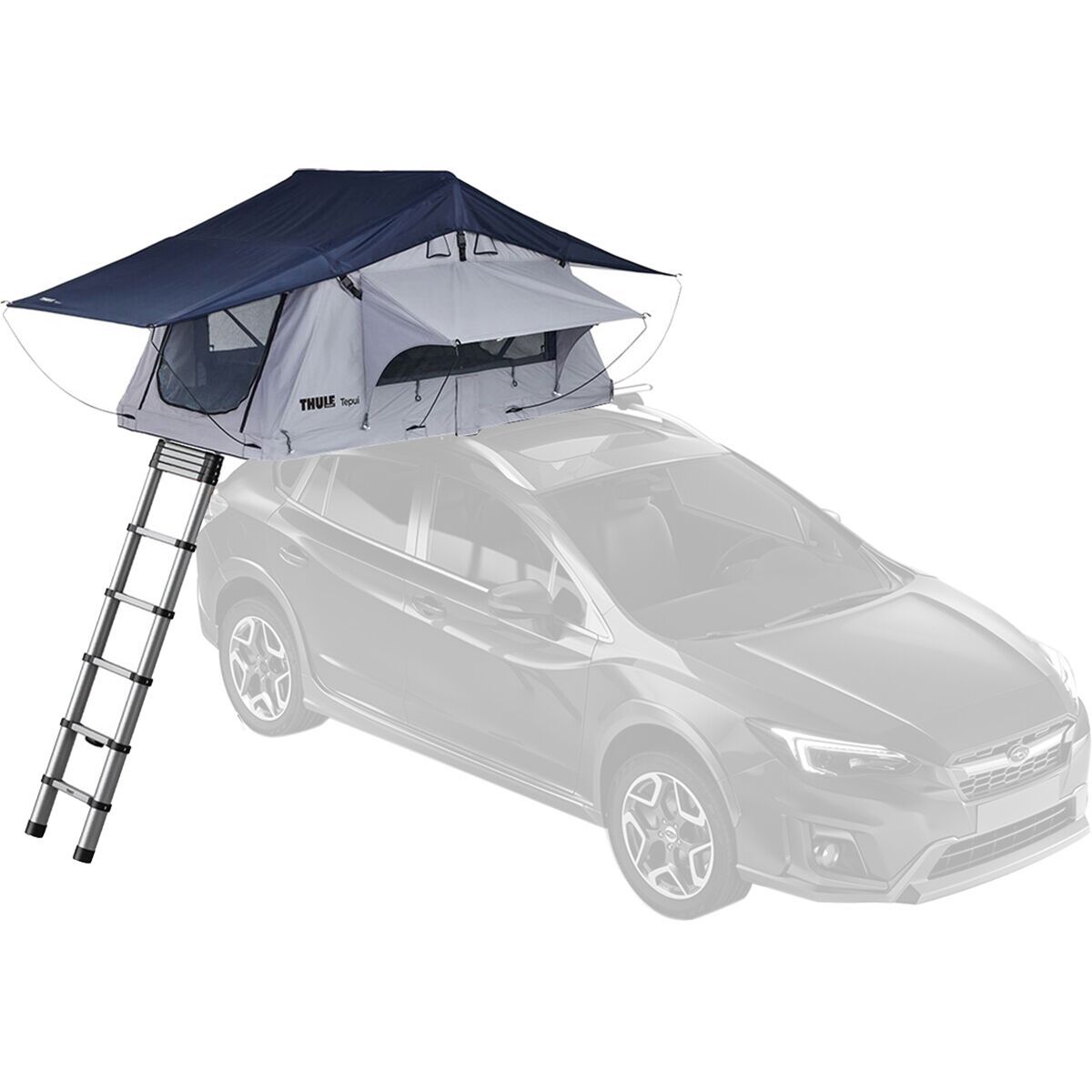 Coming in at $1,199.95, the Tepui Explorer Ayer 2 is a rooftop tent you don't want to miss. This tent is actually the smallest model that Tepui offers, and for those of you that are looking to take on a solo trip or only plan to have one other companion on board, this may be the tent for you when it comes to room and cost. If you are one who wants to see the great outdoors without having to sacrifice your view, this tent gives a star roof that is nearly unbeatable.
The roof allows users to lay comfortably on their mattresses below while also having a nearly unobstructed view of the galaxy above them. Along with this, the tent fits easily onto car models that are a bit smaller, making it a great choice for those that want to rooftop camp without having to find another vehicle to make it a possibility. Keep in mind, there are plenty of great features, but one of the main complaints is the weak zippers on this product – something to consider.
Don't shy away from the name of this tent, the CVT Bachelor is one that is designed to be able to accommodate someone who plans to be on the road alone, but it is completely capable of meeting the needs of two travelers seeking adventures. With the price being around $1,600, this tent actually has a few features that offer a bit more than you would expect. For instance, there are zipper features rather than velcro when you are trying to keep the tent down and secure.
One of the best features of this wallet-saving tent is the mattress that comes standard with the model. After a long day of hiking, sightseeing, or traveling for hours in a car, you can pop this tent up and come face to face with a three-inch mattress that will offer you the relative comforts of home without having to pay an unreasonable amount for it. Once you have your mattress down, plop and sleeping bag on top, and you'll be resting on the best of the best tents out there!
The Thule x Tepui Explorer Ayer 2 comes in at about $1,400, but for the price, it is a steal. This is a two person rooftop tent that can comfortably sleep those who are running with a well-equipped truck to those that have the smallest, most eco-friendly cars. Talking more on versatility, this tent offers owners the ability to get into just about any terrain they desire, as it is made to be both UV and mold resistant, making it an incredible tent, especially for the heat.
There are four large mesh windows on this tent that are covered by canopies in order to keep any rain from penetrating your camp. This tent also comes equipped with storage spaces as well as a 2.5-inch foam mattress to keep you cool on warm nights and keep you comfortable on cool fall evenings. This tent is not designed to endure harsh winter weather though, so if you plan to travel outside of spring, summer, or fall, you may need to consider another product.


FindCampingGear.com is a participant in the Amazon Services LLC Associates Program, an affiliate advertising program designed to provide a means for sites to earn advertising fees by advertising and linking to Amazon.com. We also participate in other affiliate programs which compensate us for referring traffic.